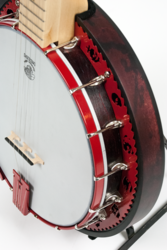 Did you know banjos kill zombies?
Spring Valley, CA (PRWEB) March 21, 2013
Inspired by the movie "Zombieland" featuring Woody Harrelson whose character at one point uses a banjo to fight off Zombies, Greg Deering created the latest 5-string Goodtime banjo - the Zombie Killer Goodtime banjo. Launched at the 2013 Anaheim NAMM (National Association of Music Merchandisers) Trade Show, the Zombie Killer banjo was a hit with general attendees and dealers alike. With a "blood splatter" resonator finish and a "saw blade-edged" brilliant red flange made with a cut-out zombie-themed pattern to match the fingerboard inlays, the Zombie Killer will capture the attention of the audience without even strumming a note.
Made with a hard rock maple neck, a 3-ply violin grade maple rim, and unique hardwood engraved inlays, the Zombie Killer has the same natural brightness, volume, and sustain that have made the Goodtime banjos the most popular selling American made banjo in the world. Retailing for only $999, this limited edition model is sure to be a hit with players interested in the "Zombie Apocalypse" craze of today or those who just want to have "more fun" playing the banjo.
The Zombie Killer is available now at authorized Deering dealers or factory direct.
Click here to learn more about this banjo and view more pictures.
Deering Banjo Company was founded in 1975 as the world's specialist in banjos and has grown to become the largest manufacturer of American made banjos in the world. Located in Spring Valley, CA, Deering produces all of its quality 4-string, 5-string, 6-string, and 12-string banjos in the same US facility and boasts the most knowledgeable team in the industry. Always on the cutting edge of banjo innovation, Deering is proud to have artists such as Mumford and Sons, Steve Martin, Taylor Swift, Bela Fleck, The Lumineers, Keith Urban, the Avett Brothers, Jens Kruger, Dropkick Murphys, and many more play their banjos. Visit http://www.deeringbanjos.com to learn more about Deering Banjos or call their toll free number 800-845-7791.