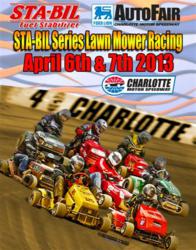 "The family that mows together, grows together" - Bruce Kaufman, "Mr. Mow It All", U.S. Lawn Mower Racing Association President.
Northbrook, IL (PRWEB) March 25, 2013
The family that mows together, grows together, especially for the North Carolina-based Sullivan family and teammates of the Rocket Man Lawn Mower Racing Team who will take to the dirt at the Charlotte Motor Speedway April 6-7 as the Food Lion Auto Fair hosts the STA-BIL Lawn & Garden Mower Racing Series for two days of racing lawn mowers at speeds up to 60 mph.
The seven members of Rocket Man Racing hail from Florida, New Jersey, New York and North
Carolina and compete in nine of the 11 STA-BIL Series classes.
Pat Sullivan of Venice, Florida is "The Rocket Man." He started it all about 11 years ago, is a 4-time U.S. Lawn Mower Racing Association (USLMRA) National Champion and has built every one of the team's ten machines.
Wyatt Sullivan of Raleigh, North Carolina is Pat's grandson, racing at 11 years old, and was 2012 Co-National Champion in the Junior Prepared Class. Danny Sullivan, Pat's nephew, is from Plattsburgh, NY racing with USLMRA when his ¼ mile asphalt racing schedule allows.
Pete Sullivan of Raleigh, Pat's son and Wyatt's dad, is a 5-time National Champion. Husband and wife racers Tina (Pat's daughter) and Mike Paccione are from New Jersey. Mike is a 2-time National Champion. Joey, their son is the newest addition to the team as he is now old enough to race in the Junior Prepared Class.
Pat, Pete, and Wyatt are the first and only three-generation racing family in the USLMRA, and have ten National Championships between the three of them. The team also has a pit crew of Pat's grandchildren including, McKenna (nine), Nicholas (eight), and Olivia (six). The 2013 racing season also presents the second multi-generational Sullivan racing link, with Pat, Tina and Joey.
"We have two family lawn mower racing tree branches that each extend three generations," said Pete Sullivan, a Partner in the Raleigh, North Carolina based firm of LStar Management, a privately held real estate investment firm. "My day job is all about helping families realize the American dream of home ownership, and my weekend passion is racing lawn mowers with my own family."
The Sullivan family will join other lawn mower racers from across the country to compete in bladeless competition at the "The Greatest Place to See The Race", Charlotte Motor Speedway. Racing starts at 1:30 p.m. on Saturday, April 6 and 12:00 p.m. on Sunday April 7.
A custom-built dirt track will be created near the 5th Mile Track near the Gated Area of the Speedway specifically for the racing mowers, which compete in 11 classes with all cutting blades removed. Racing is sanctioned by the U.S. Lawn Mower Racing Association (USLMRA), where racers compete for points, trophies and bragging rights, as well as the occasional garden gnome. The USLMRA is sponsored by STA-BIL®, America's top selling fuel stabilizer.
Lawn mower racers from across the country will compete at Charlotte including members of the East Tennessee, Florida, Mason-Dixon, Michigan, Georgia, North Carolina and Ohio Lawn Mower Racing Associations along with the Alabama-based Dixie Outlaws. National and regional champions will be on site to race and visit with fans all weekend.
The Food Lion AutoFair annually attracts more than 100,000 visitors, features nearly 50 car club displays and offers a surplus of automotive parts and memorabilia for sale or trade. There's also a collector car auction conducted by Dealer Auctions Inc. and more than 1,500 collectible vehicles of all makes and models will be available for sale in the car corral that rings the 1.5-mile superspeedway.
Food Lion AutoFair is open from 8 a.m. to 6 p.m. Thursday-Saturday and from 8 a.m. to 4 p.m. Sunday. For tickets or additional information about Food Lion AutoFair or other events at Charlotte Motor Speedway, call 1-800-455-FANS (3267) or visit http://www.charlottemotorspeedway.com.
The USLMRA is the nation's oldest and largest National Lawn Mower Racing Sanctioning Body with more than 800 racers nationwide. Lawn mowers race in several road course classes with all cutting blades removed at speeds from 10-60 mph. Racers compete for trophies, points and bragging rights, never for purse money. The annual STA-BIL Keeps Gas Fresh Finals national championship is televised on Fox Sports Net "Race Freaks" USLMRA sponsors include STA-BIL Fuel Stabilizer, HEET GasLine Antifreeze, Diesel Power!,104+ Octane Boost, No Leak, Alumaseal, Start Your Engines! and K&N Filters. For mow info please visit http://www.letsmow.com.
About Gold Eagle Co., makers of STA-BIL Fuel Stabilizer
For 80 years, Gold Eagle® Co. has been an industry pioneer in the production and distribution of aftermarket fluids and additives, creating products that help preserve, protect and enhance the performance of engines everywhere. Gold Eagle® Co is a leader in the product development, manufacturing, marketing, and distribution of branded engine performance and maintenance chemicals. Privately held and headquartered in Chicago, Gold Eagle Co. is the manufacturer of leading brands, including STA-BIL® Fuel Stabilizer, HEET® Gas-Line Antifreeze, NO-LEAK® Treatments, 104+® Octane Boost, Start Your Engines® and DieselPower!® Diesel Additives. To view a complete line of Gold Eagle products or learn more about the Company, please visit http://www.goldeagle.com.