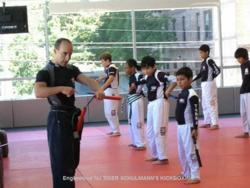 Englewood, New Jersey (PRWEB) March 22, 2013
Bergen County's best mixed martial arts school is providing Free Close Range Self Defense classes on Wednesdays from 8:30 to 9:00 p.m. to all local residents through May 2013. The head instructor David Klein, farther of three, hopes to empower local educators in light of recent horrific events in our nation's schools and regularly hosts complimentary seminars on Women's Self Defense, Bully Prevention and more.
After years of operation in the Palisades Court shopping center, Tiger Schulmann's Mixed Martial Arts has moved to a beautiful new location on the second floor at 104 Grand Avenue — a short distance from Route 4, the New Jersey Turnpike and the Palisades Interstate Parkway for students arriving from all directions. This location is accessible from most parts of Bergen County and surrounding areas of Essex, Hudson and Passaic counties.
To promote this new location and its comprehensive variety of training services, Tiger Schulmann's of Englewood is offering a free trial special to all new students. This offer includes a free orientation session, a pair of MMA training gloves and one complimentary class. Prospective students can sign up online or call the Englewood location for more information on taking advantage of this special offer valued at $40.
Each Tiger Schulmann's location offers martial arts classes for kids, kickboxing instruction for adults, self-defense education, jiu-jitsu, karate, boxing and martial arts training for beginners and advanced fighters. All classes are tailored to students depending on their level and experience. Plus, most classes have an equal distribution of male and female students.
Former martial arts champion Tiger Schulmann has operated martial arts schools since 1984 and helped pioneer the standard karate dojo prototype in the United States. Today, there are more than 47 Tiger Schulmann's Mixed Martial Arts schools in New Jersey and four other states. The company's corporate headquarters is located in Elmwood Park, New Jersey.
Anyone who is interested in this special offer or attending a class can call the Englewood location directly at 201-215-4406 or visit the Tiger Schulmann's website at http://www.EnglewoodMixedMartialArts.com. Classes at Tiger Schulmann's Englewood location are lead by Sensei David Klein and instructor Joshu Silima Diarra.