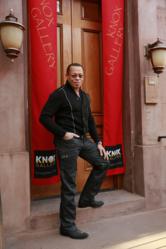 The Knox Gallery embraces the courageous in artistic expression ..."
New York, NY (PRWEB) March 20, 2013
As Harlem's 1920's cultural renaissance officially re-emerges as the "New Harlem Renaissance", it remains true to its origins by offering richly diverse programs of exceptional talent. For the visual arts, Harlem born Charles Knox LaSister III, founder and director of his eponymous Knox Gallery in Central Harlem offers a dynamic program of exhibitions and encounters this April with a one person exhibition entitled "Mirrors of the Soul, portraits by Harlem sculptor Leah Poller".
"The Knox Gallery embraces the original and the courageous in artistic expression; presenting Poller's one-person exhibition magnificently underscores the strength and purpose of creativity emanating from the Harlem tradition of serving the Arts", states Charles Knox LaSister III.
The keystone of Poller's exhibition will be the unveiling of a portrait in tribute to legendary jazzman Fred Ho whose exemplary lifetime as a musician and cultural activist was recently honored in his latest public appearance at the Red Rooster's Ginny's Club in February.
The elegant brownstone housing the Knox Gallery will be the scene of a series of openings, book signings, a film preview of a documentary on Ho and multiple musical performances throughout April (Inaugural event April 11th). "The Knox Gallery has given me full artistic license to present works never seen in the US, with great sensitivity and appreciation for my re-invention of the classic portrait", states Paris trained sculptor Poller.
Ann Landi, contributing editor to Artnews Magazine, who is providing a critical essay for the catalogue of "Mirrors of the Soul" affirms "Poller reminds us that some traditions never wholly die out – not those of high quality, truth to materials and character, or of evocative signals to the viewer. In the right hands, these will always pulse with new life".
Poller's unique approach to the bronze portrait is an amalgam of figurative, and non-figurative, real and sur-real, portraying both the subject and his/her thoughts. The over-arching result as presented in "Mirrors of the Soul" is a series of sensitive and powerful portraits that emanate from a unique subject while expressing the universal. Knox Gallery has secured a pre-eminent position in the New Harlem Renaissance with this provocative and challenging exhibition.
About the Knox gallery: http://www.knoxgallery.com
The Knox Gallery, directed by Charles Knox LaSister III, located in Central Harlem, offers an elegant exhibition space in which to experience contemporary art created by emerging and established fine artists of high quality and unique expression. The unifying theme of all the work exhibited expresses profound formal grounding, an aesthetic level of excellence and an expression of courage and clarity in the voice of each artist.
About Leah Poller: http://www.leahpoller.com
Paris trained sculptor Poller is known for her internationally exhibited 101 Bed Collection and for her sur-realized portraits. As artist, arts-activist, writer and content editor of New Observations, Poller brings a lifetime career in the arts to Harlem where she lives and works. For more information: http://www.leahpoller.com
About Fred Ho: http://www.bigredmediainc.com
A Harvard student of sociology, and recognized as the greatest baritone saxophonist of all times, author of 8 books, director for 30 years of the Afro Asian Music Ensemble, and inaugurator of the Apollo Theater series and the Red Rooster's Ginny's Supper Club, Fred Ho has transformed music. The magnitude and immensity of Fred Ho's stature in multiple fields and intersections can be best understood in the new book edited by Drs. Roger Buckley and Tamara Roberts, Yellow Power, Yellow Soul: The Radical Art of Fred Ho (University of Illinois Press), publication April 2013.