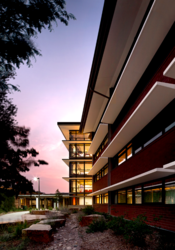 In a virtual-everything world, making a case for bricks and mortar.
Denver, CO (PRWEB) March 20, 2013
With the recent rise in online education, U.S. colleges and universities are confronting new challenges in the recruitment and retention of students. To help turn that around, 4240 Architecture is gleaning lessons from an unlikely source: resort hospitality. The firm is leveraging its experience designing for clients like Walt Disney Imagineering and Starwood Resorts to create learning and living environments full of destination amenities—like, say, a private ski slope—with all the comforts of home.
"Fundamentally, people visit resorts to have a unique experience in a unique place," said 4240 Principal Lou Bieker, AIA, LEED AP. "Why should going off to college be any different?" One example is the firm's Parmelee Hall revitalization at Colorado State University (CSU), an "experiential overhaul" that converted an aging dormitory into a coveted student destination. "We're creating immersive environments where students can plug in and hang out on campus," Mr. Bieker added. "Memory making is important…it's quite different from sitting at a computer terminal for an online class—and here's where the ethos of resort hospitality comes into play."
Calming materials, daylighting and interactive greenscapes were introduced, as were local elements such as natural sandstone and masonry. "As with our resort projects, the communal spaces were designed with a range of accessible, friendly places—some formal, others less so—to encourage serendipity," said 4240 Senior Associate Izabela Rydel, LEED AP. "Where was all of this when I lived on campus?" asked one CSU Equine Science graduate. "All I know is that it's absolutely beautiful now, and it sucks that we missed out on the renovations."
Similar outcomes have resulted from projects for the University of Illinois Urbana-Champaign, the University of Colorado at Boulder, and Clemson University (part of the Project ONE development in Greenville, South Carolina), placing 4240 in the upper echelon of U.S. architecture firms working in higher education. "4240 is among the best of the best," said Mike Rush, AIA, ICC, University Architect and Manager of Design and Construction at CSU. "Through all stages of design and construction, their enthusiasm, energy and excitement in working with CSU has been unparalleled."
In late March, the Society of College and University Planning (SCUP) holds its annual Pacific Regional Conference, in Colorado. This year's theme is "PLACEMAKING: Strategic Identity + Creation." As part of the four-day event, tours of select academic landmarks are scheduled. One important stop: Parmelee Hall. "I firmly believe that 4240 has a stake in and a commitment to Colorado State University," said Richard Pott, LEED AP, Facility Planning and Project Support, Housing and Dining Services at CSU, "and would consider them campus partners for many years to come."
That suits 4240 Architecture, whose vision is to help evolve the academic landscape from one of hidebound institutions to one that meets twenty-first-century demands, albeit with a human touch: "You can take a class online, but you miss that personal connection…that sense of immersion in something great and eternal," said Mr. Bieker. "In a virtual-everything world, I think we're making a pretty compelling case for bricks and mortar."
About 4240 Architecture
With studios in Chicago [42° N latitude] and Denver [40° N latitude], 4240's global work impacts a wide range of markets, including mixed-use urban infill, multi-family residential, commercial, government, higher education and resort hospitality. The firm was recently honored with the prestigious American Architecture Award. Their work builds community to support lifelong learning and memory making. More at http://www.4240arch.com.
--
Media Contact:
David Scott
CONTENT Public Relations
david(at)ContentUniversal(dot)com
720.371.9164