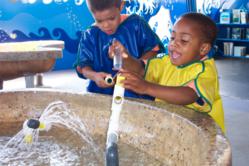 PROVIDENCE, RI (PRWEB) March 20, 2013
Beginning in April, Providence Children's Museum is open on Mondays from 9:00 AM - 6:00 PM. On Mondays from 10:00 AM - 12:00 PM, families join Splash Science, a series exploring the playful properties of water. They'll make music using jars and water, use funnels and tubes to make water move, experiment with what sinks and floats, and more.
And on weekends in April, families discover fun-filled paper folding activities during Paper Capers, a special series presented by online parent resource Kidoinfo. On April 6 and 7, they explore the traditional Japanese art of origami and learn to fold paper into simple shapes and intricate designs. Children crease paper to create whirligigs, design gliders and fashion other fabulous flying contraptions on April 13 and 14. And on April 20 and 21, kids create paper kites and keep them flying high in celebration of National Kite Month. Paper Capers activities take place from 11:00 AM - 2:00 PM and are recommended for ages 5 and up.
All Splash Science and Paper Capers activities are free with Museum admission of $9.00 per person under 12 months; admission is free for Museum members. Visit http://www.ChildrenMuseum.org for more information and a full calendar of events.
###
Providence Children's Museum is located at 100 South Street in Providence's Jewelry District. September through March, open Tuesday through Sunday and Monday school holidays, 9 AM to 6 PM, and selected Fridays until 8 PM. April through August, open 7 days. Call (401) 273-KIDS or visit http://www.ChildrenMuseum.org.