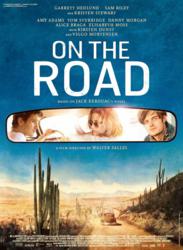 (PRWEB) March 20, 2013
The Oxnard Film Society will host an event at the Carnegie Art Museum in Oxnard, CA on May 19 that will feature Gerry Nicosia, author of ONE AND ONLY, and include Beat poetry, film clips, and a discussion of Gerry's work on ON THE ROAD. On Monday May 20, there will be two showings of ON THE ROAD at the Plaza Stadium 14 theatre in Oxnard and Gerry will be doing Q and A after each screening.
When Jack Kerouac and Neal Cassady first met in New York City, they didn't like each other. How did they come to be best of friends, immortalized forever as Sal Paradise and Dean Moriarty in ON THE ROAD?
Lu Anne loved them both, and she taught them how to love each other. In effect, she made the Beat Generation possible, and gave Kerouac material for one of the seminal novels of the twentieth century, now a major motion picture. Illustrated with over 40 rare archival photographs, ONE AND ONLY: The Untold Story of ON THE ROAD reveals the hidden side of Neal and Jack, the real men behind the legends.
Join Gerry at these other events:
4/27: Metropolitan Gallery, St. Louis - Nu Art Series
5/3: Salem State University, Alternatives Library, Salem, MA
"I could write a book just from all the experiences I had in Montreal. I will always remember my own shock at seeing the rapt attention that a whole group of some of the sharpest cinematic minds in the world were paying to a taped interview I had done more than 30 years earlier, and then suddenly having my own moment of realization about how great this interview with Lu Anne Henderson was—having little to do with my own prowess as an interviewer, which was minimal at that time, but everything in the world to do with the unique golden heart of this special woman, who might now, through the artistry of Kristen, Walter, and others involved in the film, finally get the recognition she had long deserved."
—Gerry Nicosia, from the introduction of One and Only