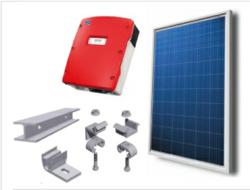 California (PRWEB) March 21, 2013
DIY solar kits allow homeowners to install their very own system for less money than they spend eating out each month.
Considering the average household spends approximately $2400 per year on electricity, it is no surprise that many Americans have begun looking for more affordable options. In the past, solar installations were considered to be cost prohibitive for the average person. With the advent of Peak Solar's DIY solar kits, homeowner's can now enjoy all of the benefits of alternative energy at a fraction of the cost.
According to Solar Energy Industries Association, the price of solar components has dropped 27 percent over the last year. In response to lower costs, installation of solar systems has grown exponentially. The popularity rise is so dramatic that power companies in some regions are seeing a surplus in the amount of residential solar generated electricity available for sale.
In order to continue the trend of making alternative energy affordable for the average person, Peak Solar has introduced DIY solar kits. The kits include system planning, hardware, solar panels, inverters, and racking systems.
Other components may be added to address individual needs. In addition to lower prices, the solar kits are designed be installed by the homeowner, thereby eliminating the cost of hiring a professional. Peak Solar offers a free online chat feature to answer questions about planning, money saving options and ease of installation.
For those that may be wondering if a solar kit can really eliminate their monthly electric bill, Peak Solar provides detailed examples of savings. The System Payback calculator can be customized to analyze savings based on individual geographic locations.
The Peak Solar team has over four decades of experience in solar development and engineering. Together, they are working to make the science of solar energy a reality for average Americans. In addition to DIY solar kits and other residential applications, the company is a provider for large scale commercial projects and development.
1-805-Solar-81 or
JrBucher(at)PeakSolar(dot)com
About Peak Solar:
PeakSolar.com is a regional expert in solar development and engineering as well as a leading supplier of Photovoltaic components and DIY solar kits. Providing turnkey PV systems for residential, commercial and industrial applications, Peak Solar has developed systems from the home consumer to corporate energy development parks.