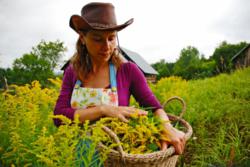 I have a personal touch in every product I sell.
Toronto, Ontario (PRWEB) March 20, 2013
Sigrid Natural Skin Care is pleased to be part of this year's Greenliving Show in downtown Toronto. The Greenliving Show will take place between April 12th and 14th, 2013, at the Direct Energy Centre, Exhibition Place, on 100 Princes Boulevard. The Greenliving Show is North America's largest consumer show dedicated to green products that are making an impact in how we live and the footprint we leave behind. Only 450 companies have been selected based on the contributions they make by thinking locally and acting globally.
Sigrid Natural Skin Care was founded in 2003 by Sigrid Geddes, in Wilno, Ontario. Sigrid turned to the land she grew up in to create a sustainable business that brings health and wellness to those isolated by city living. Many people want natural products but don't have access to the natural ingredients to make them. Sigrid discovered that she had a natural talent and ability to combine the natural world she grew up in with great skin care creams.
Having grown up in the Ottawa Valley countryside, Sigrid was surrounded by people who knew how to use natural plants and herbs for all kinds of health benefits. Sigrid collects and handpicks all the natural ingredients herself, making her skin care products on limited batches that sell out quickly. "I think it is so important to be part of the manufacturing process", Sigrid says. "I have a personal touch in every product I sell and I feel a connection with everyone who uses my skin care products." It's an aspect that makes her unique from those large cosmetic manufactures.
Sigrid Naturals can be found at Booth # 1642 in the Health and Beauty section. All of their beautifully handcrafted products will be available. At the same time shoppers can try getting their skin drunk with moisture and their olfactory drunk with pleasure. There will also be a few fabuloso sales on.
Sigrid will also be doing a live presentation at the "Beauty Bar" on how to whip up fresh cream. Free samples will be available after the demonstration. Like us "sigridnaturals" on Facebook and follow us on Twitter to get the details!