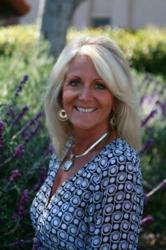 "People want to know there is more beyond the quality of life they are living right now," says Martha Halda, author of 'A Taste of Eternity'.
Oceanside, California (PRWEB) March 20, 2013
What happens after we die? Do we proceed to a place of indescribable beauty, as described in religious texts? Or do we simply cease to exist? And what happens if we return to physical life?
During the past decade, this topic has created great debate – and big business – among philosophers, scientists and experts on religion. With several bestselling books ranging from scientific analyses to memoirs, the subject continues to fascinate millions throughout the country and world.
"People want to know there is more beyond the quality of life they are living right now," says Martha Halda, author of A Taste of Eternity, a memoir chronicling her near death experience and its impact on her life. "Most aren't living the life that hits the mark of what they ultimately want. So often, we don't think of our greater purpose or value until we're near the end of our lives. We want another chance."
Halda knows first hand. On October 8, 1999, she suffered severe injuries when her Ford Expedition landed on her after overturning in Valley Center, Calif., an unincorporated San Diego County community. She was pronounced clinically dead three times, and spent the next two months in a medically induced coma. It took two years for her to recover from her injuries.
During the time paramedics, and then surgeons, tried to revive her, Halda incurred her near death experience. "My angel and I traveled from one place to another, drifting, floating, like watching a butterfly or hummingbird," she recalls. "We just sort of up and went, gliding to the next place of my review, divinely guided.
"My entire forty years was shown to me via imagery, a type of ESP, which included all the human senses. I felt all the feelings I gave someone, received, or caused a person to have," she adds.
Then Halda was shown two scenarios regarding her sons – one if she died, one if she came back. "I begged, bartered to stay in Heaven, it was so lovely, I wanted to stay forever," she says. "I was given a choice, which way to go. After weighing the two, and seeing the future of my sons, I instantly chose to come back. I wanted to be there for my babies."
Coming back proved a monumental challenge, chronicled in A Taste of Eternity. After emerging from her coma, Halda told her family, caregivers and others about her experience. She found responses ranging from complete acceptance to skepticism or outright disbelief. "There were three misconceptions," she says. "A few doctors insisted it was only a neurochemical reaction put out by a dying brain. That amused me. Another was that you cannot die and come back, which some friends said is not possible for followers of Christ. Well, I'm a Christian, and it happened. Then I told a nurse at the rehab hospital I went to heaven. She said, 'Never tell anyone, or they will never let you out of here.'"
The former college athlete recovered beyond the most optimistic hopes of caregivers. Three years later, she completed the Dublin Marathon, raising more than $12,000 for the American Diabetes Association. She also became the spokesperson and advocate for a $487 million bond measure, the largest voters ever passed in San Diego County.
Then she set out to fulfill one more promise she made while in eternity: to tell her story. A Taste of Eternity chronicles her experience, and then shows how every aspect of that experience defined the 13 years that followed. At times, she questions her life purpose; at others, she blazes through tough challenges, including a divorce and loss of an upper middle-class lifestyle. She focuses on one theme over all others: to live life in a fearless state of love, because death is nothing to fear.
"It's all about the Golden Rule," she says. "Giving, sharing and expressing love are the most important things we have to offer. When we die, the only thing we take is the love we shared, the memories we made, and our integrity. Everything else stays here. There are no U-Hauls in Heaven."