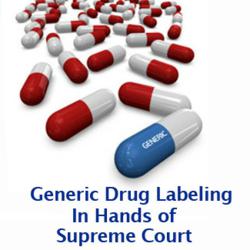 If you've been injured due to a harmful drug side effect, we urge you to contact Wright & Schulte LLC today through yourlegalhelp.com, or call 1-800-399-0795.
Dayton, OH (PRWEB) March 20, 2013
Wright & Schulte LLC, an experienced drug injury law firm reports that the Supreme Court has heard closing arguments and will begin its' process to rule in one of the most watched cases since the High Court ruled on PLIVA v. Mensing in 2011. That decision effectively protected generic drug manufacturers from being held responsible for failing to warn about drug risks, even if their drugs cause patient's injuries and the drug maker knew about the dangers. (Mutual Pharmaceutical Company v. Bartlett, U.S. Supreme Court, No. 12-142)
The case in front of the Supreme Court involves a Mutual Pharmaceutical Co request that the High Court overturn a $21 million jury award to a New Hampshire woman who used the company's non-steroidal anti-inflammatory drug sulindac for shoulder pain in 2004. The woman, Karen Bartlett, developed a severe form of Stevens – Johnson Syndrome. Bartlett was left near-blind, with scarred lungs, and a constricted esophagus. She filed a lawsuit in 2008, alleging the drug was unreasonable dangerous and defectively designed.
[http://www.nytimes.com/2013/03/05/business/justices-to-take-up-case-on-generic-drug-makers-liability.html?pagewanted=all
Mutual argued that the federal law of sameness bars Bartlett's allegations because under federal rule, generic drugs are required to carry the same labels as their brand counterparts, which the company contended should carry over to design claims, saying generic drugs have to copy brand drug and have no control over their design, Reuters reports. (yahoo.com/supreme-court-hear-arguments-over-generic-drugmaker-liability-100505640--finance.html]
Much of the debate was about when and whether federal law trumps state law and, specifically, whether a generic drug company can be sued in state courts over alleged design flaws in a drug.
A key point of debate Tuesday was how this case might differ from a Supreme Court decision in 2011 in Pliva v. Mensing. The Supreme Court made their decision based on the guidance of the Hatch-Waxman Act. Rep. Henry Waxman (D-Calif.) who wrote most of the laws regarding generic drugs, says the federal law never included the preemption doctrine that currently protects generic drugs makers whose drugs have U.S. Food and Drug Administration (FDA) approval, from being responsible for their safety.
[http://thehill.com/blogs/healthwatch/legal-challenges/288531-case-of-dangerous-generic-drug-reaches-high-court
What makes the Mensing ruling even more challenging for consumers is that about 80 percent of all prescriptions in the U.S. are filled with generic drugs, as state law allows pharmacists to substitute brand drug prescriptions with generic versions when available. Richard Schulte, a lawyer who represents plaintiffs in personal injury suits against generic drug companies, told Reuters that most people are unaware they're taking a generic instead of the brand-name drug. "When they pick up their script, they have no idea they have no legal claim and they're not protected," said Schulte.
If the High Court rules that defective product claims against generic drug makers are barred under federal law consumers will be left with virtually no legal recourse when injured by copycat drugs. According to The Hill report, the Justice Administration is siding with generic drug companies, saying that the court system shouldn't determine if a drug is safe or not, arguing that the decision lies with the FDA. However, the history of defective drug claims filed in courts across the country prove that the court system has long played an important role in keeping patients safe against defective products.
A decision is likely before the high court's term ends in June.
About Wright & Schulte LLC
Wright & Schulte LLC, an experienced drug injury law firm, is dedicated to the belief that America's legal system should work for the people. Every day, the attorneys of Wright & Schulte LLC stand up for the rights of people who have been injured or wronged, and fight tirelessly to ensure that even the world's most powerful corporations take responsibility for their actions. If you've been injured due to a harmful drug side effect, we urge you to contact Wright & Schulte LLC today through yourlegalhelp.com, or call 1-800-399-0795.