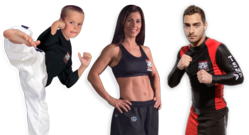 Elmwood park, NJ (PRWEB) March 21, 2013
Now that Spring has arrived and people are beginning to consider their options to get in shape for the summer, Tiger Schulmann's Mixed Martial Arts launches a membership campaign with discounted prices and some free gear.
Beginning in November, with Thanksgiving, people tend to become more inactive. They go outdoors less and eat more, packing on winter pounds.
For many years, Tiger Schulmann's Mixed Martial Arts has been sensitive to this trend.
"People come out of Winter and don't move so quickly into into Spring. They know that they are out of shape and looking heavier than they would like. Out comes the swimwear, but it's a larger size than most people are comfortable with," says Alon Feder of Tiger Schulmann's. "We an incredibly rapid program to slim down, build strength, endurance and flexibility, and also learn to defend yourself at the same time."
Tiger Schulmann's emphasizes authentic kickboxing as the most effective way to drop the extra pounds, get into shape and develop a lifelong, instinctual skill of being able to defend one's self should the need ever arise at any point in the future.
For the "Kickbox Into Your Summer Body" campaign, Tiger Schulmann's will be releasing television commercials, a Pandora Radio spot, printed ads, posters and fliers, plus a full-court social media blast. The campaign will launch on April 1, 2013 and expire on May 15.