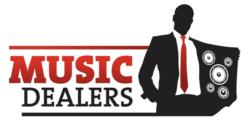 The Music Dealers Discovery Tool represents disruptive technology at its best. For the first time you can discover and license music by the world's top indie artists all available and pre-cleared by way of the largest searchable database.
Chicago, IL (PRWEB) March 20, 2013
Global music tech company, Music Dealers, announced today the launch of The Music Dealers Discovery Tool version 3.0, further revolutionizing the methods by which content creators search for, discover and license music to enhance their creative projects.
The Discovery Tool was first used by CBS, one of Music Dealers' partners, for the big game broadcast in New Orleans this past February. The music tech platform allows the sports network to cut licensed music on-site from some of the best emerging musicians in the region. CBS will also utilize the company's platform for the upcoming popular NCAA basketball tournament.
CBS relies on Music Dealers to equip their team with The Discovery Tool's intuitive, reliable platform that gives network producers and editors real-time, universal access to authentic tracks when making live, on-site edits during their highest viewed broadcasts like the big game and NCAA basketball tournament.
"By providing premium quality music from breakout indie talent representing the sounds and genres most appealing to CBS's core demographics, Music Dealers helps the network consistently deliver highly personalized viewing experiences and cultivate rich, meaningful connections with its audience," said Music Dealers CEO and co-founder, Eric Sheinkop.
The company's proprietary music tech platform, The Discovery Tool, is the gateway through which content creators can access the company's global artist community, comprised of over 20,000 of the most highly sought-after emerging musicians in over 70 countries around the world.
The Discovery Tool's latest enhancements empower Music Dealers clients in the advertising, TV, sports, film and gaming industries as well as its brand partners like The Coca-Cola Company, to source music from the world's largest emerging music-licensing database using the most accurate and efficient music technology tool kit available in today's marketplace. Through the Discovery Tool's new "Location" search filter and revamped artist profiles that now feature robust artist demographic information, Music Dealers' global brand and entertainment partners are driving additional value for their worldwide campaigns by localizing music for audiences of specific markets.
"Nothing brings people together like music and sports," said Sheinkop. "Our Discovery Tool platform represents disruptive technology at its best and for the first time you can search the world's highest quality emerging artists all available and pre-cleared by way of the largest searchable database. This platform was built to streamline the music discovery process, enhance creative projects for our partners and deepen audience connections, while providing the world's best indie artists with the funding, exposure and distribution necessary to propel their careers to the next level."
To highlight the New Indie Players Sparking Madness in the upcoming NCAA basketball tournament, Music Dealers sifted through thousands of artists to compile some of the most current sounds about to hit the market today. The following link showcases artists from the Midwest, South, East and West regions whose music you will hear over coming weeks as college basketball stars dribble, pass and shoot their way to NCAA championship gold: http://j.mp/14aF8dt.
In the spirit of competition, Music Dealers (@MusicDealers) is encouraging sports and music fans to tweet their favorite artist name from their 'Indie Players Spark Madness' playlists, and tag their tweet with #TheGreatUnsigned. Every tweet enters fans into a drawing for the chance to win a Great Unsigned swag pack and all access passes to their favorite artist's next show in their city. Three lucky winners will be randomly selected and announced the morning of the NCAA championship game on April 8th.
Music Dealers offers content creators free access to The Discovery Tool and never charges artists for inclusion in the Music Dealers licensing catalog. Music-seekers can instantly take advantage of The Discovery Tool's enhanced features by signing up for a Music Dealers Want Music account. Artists who would like their music considered for future music licensing opportunities can create a Music Dealers Artist Profile and submit their music for review of acceptance in just a few easy steps.
About Music Dealers
Music Dealers™ is a global music technology company that provides clients in the advertising, television, film and gaming industries with the highest quality emerging music to enhance their work. Powered by a global artist community of the world's top breakout artists, Music Dealers crowd-sources existing and original music, procures brand partnerships, live performances and offers the largest emerging artist music-licensing database in the world. In 2011, Music Dealers cemented a groundbreaking partnership with The Coca-Cola Company, which secured Music Dealers' position as the organization's exclusive global music partner and earned Coca-Cola a minority stake in the company. Music Dealers is based in Chicago, with offices in Los Angeles, New York, Atlanta, London and Mexico City. For more info, please visit: http://www.musicdealers.com.
###