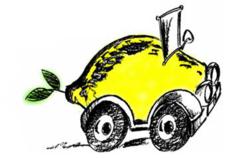 She made national headlines when she drafted an amendment in the Fiat/Chrysler sales agreement protecting Chrysler, Dodge and Jeep drivers
Cherry Hill, NJ (PRWEB) March 20, 2013
Amy L. Bennecoff, a senior associate with the Lemon Law Firm of Kimmel & Silverman, has been named a 2013 New Jersey Rising Star in a survey performed by Law & Politics. The findings were published in the April 2013 issue of New Jersey Monthly Magazine.
Rising Stars represent the best lawyers under the age of 40 or who have been practicing ten years or less. Attorneys throughout New Jersey are asked to nominate lawyers they hold in high regard who they have personally observed in action, whether as opposing counsel or co-counsel, or who they have witnessed firsthand in a courtroom setting. This honor is only bestowed to 2.5 percent of all attorneys in New Jersey.
Ms. Bennecoff, a frequent speaker on New Jersey Lemon Law issues, has been regularly featured on News 12 New Jersey, Comcast's Eye On Ocean County and NBC10 News in Philadelphia. She made national headlines when she drafted an amendment in the Fiat/Chrysler sales agreement protecting Chrysler, Dodge and Jeep drivers and ensuring they were still entitled to Lemon Law and federal warranty protection following the sale.
A Lemon Law attorney with Kimmel & Silverman since 2007, Ms. Bennecoff has represented hundreds of New Jersey residents under the New Jersey Lemon Law and the Federal Magnuson Moss Warranty Act. A majority of her clients have received repurchases, new vehicles, or significant monetary compensation to reflect the diminished value of the vehicle as a result of the defect.
Since 1991, Kimmel & Silverman has provided cost-free legal representation to more than 75,000 consumers throughout New Jersey, Pennsylvania and the Northeast, recovering more than $165 million for their clients. The Firm's efforts have been featured on Good Morning America, Extra, the CBS Early Show and Nightline. Kimmel & Silverman is also the only Lemon law Firm in the Country to be honored by the American Bar Association. For more information regarding Kimmel & Silverman and the services they provide under the Lemon Law and Federal Warranty Statutes, call 1 800 LEMON LAW (1-800-536-6652) or visit their website at http://www.lemonlaw.com.