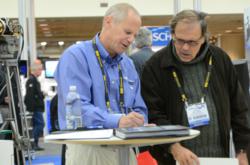 Interactions lead to the development of new technologies and solutions, and the meeting acts as a catalyst in the economic engine of the photonics industry, with companies securing new business leading to jobs and economic growth.
BELLINGHAM, Washington, USA (PRWEB) March 19, 2013
Driven by the critical role photonic technologies play in today's defense and industrial economies, the SPIE Defense, Security, and Sensing (DSS) conference and exhibition have grown to become the leading forum where developers of advanced technologies and products meet face-to-face with government and industry customers.
Located each spring at the Baltimore Convention Center, DSS enables economical, efficient access for government, industry, and academia to technical presentations, professional development courses, and a free exhibition featuring 500 developers and suppliers of sensing, imaging, display, and other technologies. Dates are 29 April through 3 May.
The three-day exhibition (30 April - 2 May) features the industry's leading suppliers of products such as robotic systems, infrared detectors, chemical sensors, high-speed imaging systems, lasers, night vision, and advanced display technologies. In addition, 55 conferences covering a broad range of technical topics and a suite of 50 professional development courses taught by leading experts are top features of the meeting.
"It is a true sign of the relevance and value that our customers place on DSS that not only will the meeting take place this year as planned: it is thriving and on track to be another robust event," said Dr. Andrew Brown, SPIE Senior Director. "While U.S. government budget cuts and sequestration have resulted in some uncertainty in the U.S. defense sector, the global photonics industry is growing, and SPIE is committed to supporting the creative individuals, companies, and organizations that serve this industry nationally and internationally."
Brown noted that researchers understand the importance of meeting face-to-face in order to advance technologies and develop new collaborations. At the same time, companies value having a platform on which to showcase their latest products and services, and end users looking for solutions can efficiently compare capabilities through product demonstrations and tutorials.
"Scientific conferences and exhibitions such as DSS are efficient, effective, and invaluable in bringing together scientists and engineers with system integrators and end users to ensure that the best and newest technologies are available to address the most challenging applications," he said. "Not only do interactions lead to the development of new technologies and solutions, but the meeting acts as a catalyst in the economic engine of the photonics industry, with companies securing new business leading to jobs and economic growth."
SPIE is acutely aware of the need to ensure fiscal responsibility and to this end anchored SPIE Defense, Security, and Sensing in Baltimore, a cost-effective city within convenient local driving distance for people from a high density of government labs, military establishments, and defense contractors, Brown said. "We've worked hard to ensure participation in conference, free exhibition, and professional development programs that provide the highest value with very economical access."
In addition to a full range of premier conferences on infrared systems, lidar and radar, laser technology, ISR, display technologies, unmanned systems and robotics, cyber security, CBRNE, biometric technology for human identification, sensor data analysis, and energy harvesting and storage, three new topics are among the event's 55 conferences:

Emerging Theory, Analysis, and Design for Optical Space Communications
Flexible Electronics
Next-Generation Analyst.
Kenneth Israel, Major General (USAF Retired) is Symposium Chair, and David Whelan of Boeing Defense, Space, and Security is Symposium Co-Chair.
Conference proceedings will be published individually in the SPIE Digital Library as soon as approved after the meeting, and also in print and digital volumes and collections.
About SPIE
SPIE is the international society for optics and photonics, a not-for-profit organization founded in 1955 to advance light-based technologies. The Society serves nearly 225,000 constituents from approximately 150 countries, offering conferences, continuing education, books, journals, and a digital library in support of interdisciplinary information exchange, professional growth, and patent precedent. SPIE provided over $3.2 million in support of education and outreach programs in 2012.