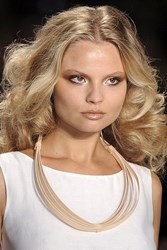 Loose, bouncy curls change your look to fun and young
Miami, FL (PRWEB) March 20, 2013
TheBeautyPlace.com, an online store of salon beauty products at discounted prices features the top 5 beauty products for Spring 2013. Featured brands include Bio Ionic, Tan Towel, Glo Minerals, TIGI Bed Head, and Supersmile Teeth Whitening Systems.
"Loose, bouncy curls change your look to fun and young," said Rebecca, lead beauty specialist at TheBeautyPlace.com. To create this hairstyle, a smoothing product like TIGI Bed Head After Party Smoothing Cream is applied on towel-dried hair. To create curls that last, Rebecca recommends using a curling iron with ionic technology like the Bio Ionic Stylewinder. Ionic technology creates hairstyles with less frizz and seals the hair cuticle. What makes the curling iron unique is its rotating barrel design making it easy to unwind hair from a hot barrel.
"Faking perfect skin is easy with Glo Minerals," said Rebecca. Glo Minerals is mineral makeup that covers imperfections and gives the appearance of flawless skin. It contains antioxidants and vitamins to help fix skin problems like blemishes and hyperpigmentation. It also contains silica, a natural wrinkle filler. Glo Minerals Pressed Base is a powder foundation that offers sheer to full coverage leaving a semi-matte finish. It is available in 18 shades.
"A bright and white smile makes you look younger and prettier," stated Rebecca. She recommends the Supersmile Teeth Whitening System Duo which uses a combination of both calcium peroxide and baking soda to dissolve stains gently while strengthening the enamel. After brushing with the paste plus Supersmile Professional Whitening Accelerator every day for a week teeth are brightened by up to 4 shades.
TheBeautyPlace.com is a leading online store of "salon brands at affordable prices." From skin care to hair care and everything beauty, TheBeautyPlace.com strives to offer clients and prospective clients excellent customer service and fast shipping of beauty products right to their door.
Follow and Like TheBeautyPlace.com:
On Pinterest: pinterest.com/thebeautyplace/
On Twitter: @TheBeautyPlace
On Facebook: Facebook.com/pages/TheBeautyPlacecom/125435188536?ref=ts
TheBeautyPlace.com Blog: blog.thebeautyplace.com
Jennifer Ramirez
TheBeautyPlace.com
877-990-1112