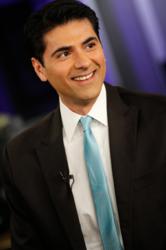 It was a five-year study, and they stopped it early because there was so much difference between the two groups.
Beverly Hills, CA (PRWEB) March 21, 2013
Renowned orthopedist Dr. Sonu Ahluwalia visits Good Day LA once a week to educate the public about various developments in health and medicine. During Wednesday's appearance, the board-certified surgeon spoke about a new study comparing the effects of consuming a Mediterranean diet with those of a diet low in calories.
Although doctors have long suspected that a Mediterranean diet was beneficial, previous studies were retrospective ones, meaning researchers only inquired about subjects' dietary habits. "This was the first study they did in Barcelona where they took a bunch of people and they asked them to eat a certain diet," said Dr. Ahluwalia, who practices in the Orthopedic Surgery Department at La Peer.
According to Dr. Ahluwalia, researchers instructed individuals in the first group to consume a Mediterranean diet, which includes lots of fish, fruits and vegetables, legumes, nuts and olive oil. They instructed the other group to consume a diet made up of low-calorie foods.
"It was a five-year study, and they stopped it early because there was so much difference between the two groups," said Dr. Ahluwalia, noting that members of the Mediterranean group saw a thirty percent reduction in the incidence of heart attacks, strokes and death from heart disease.
The discovery is an exciting one for people who may have avoided high-calorie items like nuts and olive oil in the past. "Just because you're on a sensible diet doesn't mean that you don't eat tasty food," said Dr. Ahluwalia.
The Beverly Hills doctor also spoke about the importance of getting enough sleep each night. According to Dr. Ahluwalia, new research demonstrates that lack of sleep spurs gene changes that affect bodily functions like metabolism and heart rate. Unfortunately, doctors cannot offer a set number of hours that people should sleep, as this factor varies from one individual to another.
"Somewhere between seven and nine is the right medium," Dr. Ahluwalia says, cautioning viewers not to rely too much on coffee or sleeping aids.
Watch the entire news segment on My Fox LA.
For more health tips from Dr. Ahluwalia, as well as videos of his FoxLA segments, visit his Facebook page.
Sonu Ahluwalia, MD, is an internationally-acclaimed board-certified orthopedic surgeon at La Peer Health Systems, as well as the Clinical Chief of Orthopaedic Surgery at Cedars Sinai Medical Center in Beverly Hills. His private practice specializes in sports medicine, shoulder, knee and hip surgery.
Dr. Ahluwalia completed his orthopedic training at the Harvard Combined Orthopaedic Surgery Residency Program in Boston, one of the most sought after training programs in orthopaedic surgery. He has completed three fellowships, two at Harvard Medical School and one at Lenox Hill Hospital in New York City, on shoulder surgery, sports medicine, and joint replacement and joint preservation surgery. For more information please call310.659.2910 or visit http://www.Ahluwalia.org.