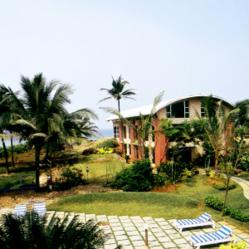 (PRWEB UK) 21 March 2013
The Beach House is pleased to announce a discount on retreats during the Ramadan period – this is open to everyone and not just to those of Islamic culture.
What is Ramadan? What is its significance?
Ramadan (also known as Ramadhan or Ramzan) is the ninth month in the Islamic calendar. It is a period of prayer, fasting, charity-giving and self-accountability for Muslims. Many Muslims will fast during the daylight hours in the month of Ramadan. The word "Ramadan" is derived from an Arabic word for intense heat, scorched ground and shortness of food and drink. It is considered to be the most holy and blessed month of the year.
The Beach House in Goa, India is taking the opportunity to open its doors during this period to welcome any customers willing to make a positive change in their lives. Programs are tailor-made to the individual needs of each customer to ensure the best possible results and goals.
The Beach House is a boutique wellness retreat situated on the secluded beautiful sands of Sernabatim Beach in Goa. Offering a range of innovative and all-inclusive wellness programmes, The Beach House provides the unique opportunity for total rejuvenation. Boasting only 9 exclusive beautifully designed rooms, The Beach House's maxim is to provide warm service in a luxurious environment whilst simultaneously endorsing your wellbeing.
This offer is available to everyone so don't miss out and take advantage of this great offer now! Spaces are limited and will be given on a first come, first served basis.
Contact (0208) 619 1234 for more details
Email Reservations
info(at)thebeachhousegoa(dot)com
Beach House Retreat Centre:
Tel: +91 832 - 6697733
Tel: +91 832 - 6697734
Fax: +91 832 - 6697799
Address:
The Beach House,
Goa Sernabatim Beach,
Goa 403709, India.