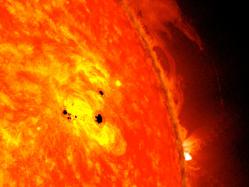 The scientific evidence does not support the alleged need for a carbon tax...the practical evidence illustrates how destructive carbon taxes are to the economy
Calgary, Alberta, Canada (PRWEB) March 21, 2013
In an effort to barter a deal on the approval of Keystone XL Pipeline, Premier Redford of the province of Alberta, Canada recently floated the idea that Canada should adopt a national carbon tax. Friends of Science strongly oppose carbon taxes on several grounds.
"The scientific evidence does not support the alleged need to reduce carbon dioxide (CO2)," says Ken Gregory, director of Friends of Science.
"Water vapor is the most important greenhouse gas," says Gregory, author of several papers on the subject of climate change. "Both satellite and weather balloon data show declining upper atmosphere water vapor. This offsets most of the presumed warming effect of CO2 and allows heat to escape to space."
The Sun is the Main Driver of Climate Change. Not You. Not CO2 say Friends of Science
Based on a decade of scientific review, Friends of Science say the evidence is clear that the sun is the main driver of climate change. Even the Intergovernmental Panel on Climate Change (IPCC) now acknowledges that many studies show strong correlations of temperature with solar activity, implying that changes in solar activity have a much greater effect on climate than what they had previously assumed.
The UK Met Office temperature index shows there has been no global warming for 16 years despite CO2 emissions during that time.
Further, around the world, the implementation of carbon taxes have devastated family finances and destroyed small business, normally the life-blood of job creation.
"The practical evidence illustrates how destructive carbon taxes are to the economy. Canada is the second largest country in the world," says Gregory. "We have a sparse population, vast transportation challenges and a northern climate. We depend on inexpensive, efficient energy."
"We're Not in Denmark"
Friends of Science vice-president Peter Burns says, "The 'climate change' policies discussed by tiny European countries like Denmark with large, dense populations and access to French nuclear power are simply meaningless in the Canadian context and have no viable application"
Denmark is frequently cited as a model of renewable energy – yet no location in Denmark (excluding Greenland) is further than 52 km (32 mi) from the sea. Marine transport is the cheapest form of cargo freight.
Canada is some 5100 km or 3200 miles across. Canada has fleets of semi-trailers, rail and airplanes delivering goods every day.
Consequently there is no 'even-handed' climate change policy that can be applied to countries with such vastly differing geographic, social, economic and industrial conditions.
"The climate change emissions targets," says Burns, "simply destroy industry, waste valuable human resources on tracking a 'carbon footprint' and do nothing for the environment."
"Canadians and Albertans cannot afford to live with fuel poverty," says Gregory. "Canadians have winter 6 months or more of the year and this nation needs inexpensive transportation of goods, services and people."
Fuel poverty deadly in northern climes
As residents of a northern country, Canadians should not be punished with 'fuel poverty' by outsiders who will never face the challenge of long months of winter ranging from 0º C to -40 ºC or more.
Despite large energy requirements for producing Canada's primary resources and its cold climate, Canada emits less CO2 per capita than the USA. While rich in fossil fuels, Canada is also abundantly supplied with hydro – meaning the Canadian energy mix is only 60% carbon based to begin with compared to 90% for the global average.
Friends of Science advocate efficient energy use, maintaining a strong Canadian economy and maximizing resource development in environmentally responsible ways.
"Look around the world," says Burns. "Good environmental management only happens in Western democracies where the wealth exists to pay for reclamation and pollution controls. Don't kill that with a carbon tax. CO2 is not pollution – it is plant food."
About the Friends of Science
Friends of Science have spent a decade reviewing a broad spectrum of literature on climate change and have concluded the sun is the main driver of climate change, not carbon dioxide (CO2). The core group of the Friends of Science is made up of retired earth and atmospheric scientists.
Contact:
Friends of Science
P.O.Box 23167, Connaught P.O.
Calgary, Alberta
Canada T2S 3B1
Toll-free Telephone: 1-888-789-9597
Web: friendsofscience.org
E-mail: contact(at)friendsofscience(dot)org