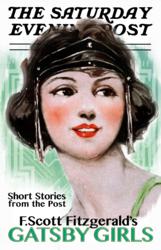 "I was surprised to discover that these eight stories inspired the birth of the 'flapper.' These heroines were the precursors to one of the most romantic women in fiction—Daisy from The Great Gatsby," said Nancy Cushing-Jones, BroadLit.
Los Angeles, California (PRWEB) March 20, 2013
He made the Roaring '20s come alive in numerous novels and created the Flapper Girl. As fans anticipate the release of the fourth film version of F. Scott Fitzgerald's masterpiece The Great Gatsby, there is renewed interest in the legendary writer's work. Fans will delight in knowing that The Saturday Evening Post is working with intellectual property studio SD Entertainment and romance transmedia and company BroadLit to publish F.Scott Fitzgerald's Gatsby Girls—a collection of his first eight short stories originally published in The Saturday Evening Post. Included are the original illustrations, cover art, reproductions of the actual pages of the Post, plus a fascinating introduction by the Post's historian. No other writer of his time wrote so skillfully, so sympathetically and so fascinatingly about women.
"We are thrilled to be able to introduce new audiences to the talent of Fitzgerald and the remarkable characters in F. Scott Fitzgerald's Gatsby Girls," said Michele Martell, COO, SD Entertainment. "It is especially meaningful to show these stories in their original context, which illuminates both the writer and his time."
"Even though I have always been a fan of Fitzgerald's work, I was surprised to discover that these eight stories inspired the birth of the 'flapper.' These heroines were the precursors to one of the most romantic women in fiction—Daisy from The Great Gatsby." said Nancy Cushing-Jones, Chief Publishing & Transmedia Officer, BroadLit.
"By the time he published The Great Gatsby, F.Scott Fitzgerald was already one of the best known authors in America thanks to The Saturday Evening Post," said Jeff Nilsson, Post Historian, who is available for interviews. "Through a span of 17 years the magazine published 68 of his short stories, and with 2.5 million subscribers, the Post brought Fitzgerald into the living rooms of Americans who might never have encountered his novels."
F. Scott Fitzgerald's Gatsby Girls fans will have a chance to win one of 25 prize packages containing both the print and digital versions of the book as well as a limited edition canvas artwork. Consumers can visit http://www.gatsbygirls.com between now and May 7, 2013 to enter into the give-away and to vote for their favorite piece of Gatsby Girls artwork. The art with the most votes will become the canvas portrait in the prize pack.
SD Entertainment recently aligned with Curtis Licensing, the licensing division of The Saturday Evening Post Society, Inc., to license its beloved portfolio of magazine brands, including The Saturday Evening Post and secured the rights to develop stories and artwork from The Saturday Evening Post's portfolio of images and content into dynamic collections of digital coffee table publications, enhanced e-Publications, and other live action or animated entertainment.
F. Scott Fitzgerald's Gatsby Girls will be available on May 7 both in print and on all eReader platforms including Apple, Amazon and Barnes & Noble (at $8.99 ebook, $14.99 paperback). All BroadLit books are distributed by Perseus Books' Constellation Services. For more information about F. Scott Fitzgerald's "Gatsby Girls, please also visit http://www.trulovestories.com.
About The Saturday Evening Post: For nearly 300 years, The Saturday Evening Post has chronicled American history in the making—reflecting the distinctive characteristics and values that define the American way. Tracing its roots to Benjamin Franklin, The Saturday Evening Post mirrors cherished American ideals and values, most memorably illustrated by its iconic cover artist Norman Rockwell. The Post is also known for publishing such literary greats as Ray Bradbury, Agatha Christie, William Faulkner, F. Scott Fitzgerald, Edgar Allan Poe, J.D. Salinger, and Kurt Vonnegut, and continues to seek out and discover emerging writers of the 21st century. Headquartered in Indianapolis, the Post is a publication of the nonprofit Saturday Evening Post Society, which also publishes the award-winning youth magazines Turtle, Humpty Dumpty, and Jack and Jill.
"As the nation changed, the Post changed, but it looks to its past as a fertile ground for its future"
—Starkey Flythe, Jr., Former Post Executive Editor
About SD Entertainment: Founded in 1999 by entertainment industry veterans Paul Sabella and Jonathan Dern, SD Entertainment specializes in managing a portfolio of brands, producing and distributing franchise properties that connect with audiences and consumers on every screen, from movies to eBooks. SD Entertainment has re-invented, produced and distributed amazing entertainment for beloved brands such as Bob the Builder, Angelina Ballerina, My Little Pony, Tonka, Care Bears, Transformers, Bratz, and Noddy, and created The Bigger Picture, the world's first digital theatrical distribution company, and its family matinee program, Kidtoon Films. SD Entertainment is a leading independent studio in stereoscopic 3D, with a turnkey 3D production facility at the Austin City Limits Live at The Moody Theater venue, and recently helped create the UT3D program at the University of Texas, Austin.
Web: http://www.sdentertainment.com/books
Like: http://www.facebook.com/sdebooks
Follow: http://www.twitter.com/SDEbooks
About BroadLit
BroadLit is unique in that it brings to the market a combination of classic and new romance material through its many multi-media channels. BroadLit's website hub, TruLOVEstories.com, is specifically designed for women looking for a little romance seasoned with humor. The site offers novels, stories, games, merchandise, contests, videos and other opportunities for building a strong community.
In addition to bringing back to life the assets of True Romance and True Love Magazines in the TruLOVE Collection series, BroadLit is also publishing original contemporary romance novels and mobile games for women. BroadLit is a Los Angeles based company launched by the owners of Broadthink, a boutique branding and new business development media company.
# # #
Media Contacts:
Ida Yenney
GennComm for SD Entertainment
T: 818-839-1410 E: ida(at)genncomm(dot)com
Stacia Kirby
For more information and review copies
T:206-363-1492
E: Stacia(at)speakeasy(dot)net
To schedule an interview with The Saturday Evening Post historian Jeff Nilsson, please contact: Shawna Seldon
Rosen Group for The Saturday Evening Post
T: 917 971 7852
E: Shawna(at)rosengrouppr(dot)com
Title:
Gatsby Girls
Author: F. Scott Fitzgerald
Published by: BroadLit
Published: May 7, 2013
Fiction: Literary, Short Stories
Print
Price: $14.99 USD
Print: $17.50 CAN
PRINT ISBN# 978-0-9890200-4-6
Digital: $8.99 USD
Digital: $9.99 CAN
DIGITAL ISBN# 978-0-9890200-3-9