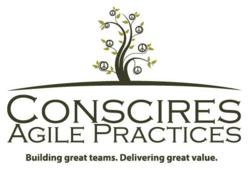 Integrating Scrum has completely transformed the productivity and morale in numerous companies, from Fortune 500 to small businesses, in industries as wide-ranging as software, publishing, and healthcare
(PRWEB) March 24, 2013
Although Scrum was originally intended to be used by software development teams, its simplicity and adaptability allow it to be made applicable to ANY walk of life.
SO, WHAT IS SCRUM?
The key to Scrum is that product delivery is early, in small parts ('increments'), and it is frequent ('iterative'), so that customers can offer timely feedback, thereby enabling timely modification of the product.
CAN SCRUM BE APPLIED OUTSIDE OF SOFTWARE?
When asked if Scrum can be integrated into any business or product development process, Bachan Anand, an Agile Coach and the Founder of Conscires Agile Practices says, "Absolutely. Scrum's framework is adaptable based on a company's unique situation. In fact, integrating Scrum has completely transformed the productivity and morale in numerous companies, from Fortune 500 to small businesses, in industries as wide-ranging as software, publishing, and healthcare. It has also improved the value they deliver to their clients and the marketplace."
COMPANY PROFILE
Conscires Agile Practices comprises of a team of Agile enthusiasts who believe in creating a positive change using the best practices of Scrum. With offices in Irvine, CA and Bangalore, India, it guides organizations in the US, UK, India, UAE, Singapore, and Indonesia to discover their strengths and identify areas for improvement. In addition to training 4600 individuals in the past three years, Conscires has also guided software development teams from NASA, Cognizant, Mercury Insurance Group, to name a few.
WHAT ARE THE SERVICES OFFERED BY CONSCIRES AGILE PRACTICES?
Four types of services are offered:
~'Agile Training', where certified trainings such as 'Certified ScrumMaster' (CSM) and 'Certified Scrum Product Owner' (CSPO) are offered. These are certified by Scrum Alliance. Conscires also offers non-certified training for those interested in learning more about Agile and Scrum. It has conducted these trainings across the US, UK, India, UAE, Singapore, and Indonesia. On-site company trainings, 'Private Training', can also be arranged.
~'Agile Assessment', where the requirements and potential challenges being faced by the client-company are assessed and the best possible approach for Agile adoption is then recommended. 'Agile Coaching and Mentoring', where experienced coaches from Conscires work from the client-company-site for the first 3-6 months, molding the Agile methodology to that company's specific needs.
~'Agile Consulting' is for a company that has adopted Agile but sometimes finds itself facing hurdles that prevent it from reaping the benefits. Conscires would help that company to identify the areas that are in need of support and provide the necessary guidance.
TESTIMONIALS
1."Bachan and his team helped us implement Scrum at Source Scientific. Our development environment has software, hardware and electronics working together to design complex medical instruments. We include all groups with our Scrum practice, not just software.
He was engaged with us right from the initial training to implementing it with the teams and continued coaching us when we ran into challenges. Bachan was effective in working with senior leadership and our development teams, and that went a long way in our successful adoption of Scrum. We have now been using Scrum here in all of our development teams for almost 2 years and could not think of going back to what life was like without it.
I would recommend Bachan to anyone who is seriously considering implementing Agile & Scrum in their organization. The benefits in your organization in terms of productivity, teamwork and better communication will be amazing."---Bruce Sargeant, at Source Scientific, a company which focuses on medical instrument development and manufacturing.
2. "I worked with Bachan for almost a year, between 2010 and 2011, where he worked at CBR as an organizational Agile coach. He was recommended by several respected Agilists in the community.
Bachan began by providing coaching support to teams around the organization, from marketing to sales and everything in between. Within no time, he had gained the favor and trust of the executives and was facilitating strategic planning sessions.
His cool, calm demeanor, positive attitude and incredible depth of understanding of the underlying principles of Scrum not only yielded very positive results and feedback from those he worked with, but made him a joy to be around.
I sincerely hope to have the opportunity to work with Bachan again, and highly recommend him to any organization looking to either adopt Scrum or improve on existing agile practices."---Ryan Southwick, Software Developer and Scrum Coach at Cord Blood Registry, which is the world's largest stem cell bank.
Kindly visit Agile.conscires.com for more details.