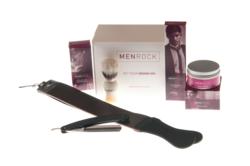 Our grooming and shaving gift sets for men help them save money, feel cool and shave well
London, UK (PRWEB UK) 20 March 2013
Men Rock, a new shaving gifts for men and grooming gift sets products line, which includes sexy and dangerous things like straight razors, cut throats, open razors and their accessories, is to attempt to get absolutely all men ever, everywhere, to use its stuff without a single celebrity endorsement, infographic consisting of misleading pseudoscientific claptrap or two bit lifestyle surveys dressed up as news.
This perhaps foolish course of action is the result of a (hopefully not too misguided) belief that real men (as well as both the men and women who buy gifts for them) might actually prefer self-evidently high quality products without footballers, tennis players or golfers telling them what to use in exchange for a few million a year.
Men Rocks' founder, CEO, MD, potential next Pope and Dictator-For-Life, Paul Johnson said: "Look, it's simple really. This stuff is good. It works. To mangle a borrowed cliché, it does what it says on the box and/or website. We've got some lovely straight razor sets here. Yes, yes, every other company that makes them has sent out press releases mentioning James bloody Bond getting a good going over by the new Miss Moneypenny with one, but we were into straight razors before then anyway - and there are loads of films with great, sexy straight razor scenes. Clint Eastwood cowboy films used to have him getting proper barber's shaves all the time and could even shoot people whilst being shaved! That's all the endorsement we need! And what we do that's different and special is to offer complete kits, with everything a bloke needs, including the razor, brush, stand, the proper shave cream and even some other luxury bits!"
New products from Men Rock include:

Complete straight razor shaving starter sets
Shavette sets (shavettes are like straight razors but use disposable razor blades, in case you didn't know)
Luxury double-bladed razor sets
Luxury bladed straight razor sets with shaving strops
Shave cream and brushes
Samples can be sent by arrangement which reviewers can pretend are for testing purposes but will actually go in your Christmas blag bag!