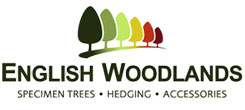 English Woodlands are stressing the importance that customers don't miss out on bare-root planting this season
East-Sussex, (PRWEB UK) 20 March 2013
Keeping a garden is a year-round pursuit, with a number of seasonal opportunities which need to be taken advantage of in order to make the most of any property. Considering this, English Woodlands are recommending their customers plant while they can, with the company's cut-off period for bare-root season occurring by Easter Sunday this year.
Bare-root plants are field-grown, before being lifted from the ground without soil. This contrasts with the other two common methods of delivering pre-grown plants, to keep the root system bound in a ball of soil, or potted safely in a container. Because bare-root plants lack nutrients from the soil until they're planted, the method is limited to the time period where the plants remain dormant, from November through to March. While container-grown plants can be purchased throughout the year, English Woodlands are stressing the importance that customers don't miss out on bare-root plants this season.
They're a more cost-effective way of planting hedges and trees during the dormant season, often able to be sold at lower prices than other varieties. English Woodlands are currently encouraging customers to examine bare-root plants for a number of categories before the season concludes. These include mixed native and single species hedging, as well as trees for coppicing, for instance hazel and sweet chestnut, or varieties for planting within a hedge line like the field maple.
A representative from the company was available to comment on the season's conclusion, and the importance of not missing out. 'Particularly in terms of hedging, which is often strictly planned as part of a designed garden, bare-root plants are unparalleled in their convenience. Not only are they cheaper than plants in soil, but the necessity of planting them in the dormant season means growth will be unified when spring finally begins in full, an excellent start for any well-planned environment. We're encouraging customers to really make the most of bare-root system, with blog series detailing storage and planting advice, and even extending a promotion on Rootgrow.'
Rootgrow is a fungal substance, used to enhance the nutrients and root system of a plant while first being established. For bare-root plants, it's used to create a dip they are then lowered into. To support the season, English Woodlands are offering 25% off all their Rootgrow mycorrhizae products until the 31st of March, helping consumers to establish their new purchases.
English Woodlands are an East-Sussex based supplier of trees, plants and planting accessories. By encouraging customers to make the most of seasonal opportunities through offers and advice, they hope to see them meet more success with their planting goals.