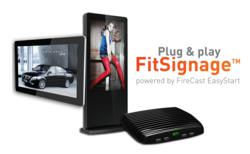 London, UK (PRWEB UK) 20 March 2013
Touch display expert Tiny Green PC has recently launched an easy to use plug-and-play system, designed for assignments where several small screens are required in a number of locations. Named 'FitSignage', the system has been crafted with the likes of POS promotions, trade shows, and public information uses in mind.
Fit PC3 is Tiny Green PC's computer of choice for powering FitSignage. The super-small, high power PC measures a mere 19cm x 16cm x 4cm and features low energy consumption (10W), making it perfect for projects requiring prolonged unattended use.
A major feature of FitSignage is its easy-to-use interface. Not only does it support most file types, the FireCast EasyStart software allows the user to create professional looking on-screen content thanks to its built-in graphics tools. In addition, FitSignage can be acquired in both single and dual display formats, allowing end users to further tailor the system according to their requirements. Thanks to EasyStart, a built-in remote feature, a web browser can be used to remotely update content to the FitSignage system. All of the above comes without the need for repeat maintenance and simply has a one-off cost.
Rob Anders, CEO of Tiny Green PC comments: "For those requiring powerful yet energy efficient digital signage for 24/7 use, small fanless PCs have proven to be a popular choice. We've certainly noticed a shift towards green systems such as our Fit PC range. Coupling the dependable Fit PC3 with clever software has allowed us to create an all-round digital signage solution in the form of FitSignage."
Bill Gerba, CEO of remote content management software company WireSpring, says: "It's clear that our software is increasingly being used in collaboration with highly efficient mini PCs for digital signage purposes worldwide. Combining WireSpring's software with the Fit PC3 system has allowed FitSignage to offer its users a cost-effective, high performance solution."
About Tiny Green PC
Tiny Green PC is a leading supplier of tiny, tough, green IT solutions and the official European home of Fit PC and Trim Slice.
We're focused on helping companies improve their green credentials and reduce their energy usage, whilst providing 'genius' technical solutions that do the job better, faster and cheaper, making great long-term commercial sense.
We want to see companies around the world embrace our approach to implementing green IT, but we don't want to do it alone. That's why we're building a network of technology, sales and service partners to create an ecosystem of solutions, driven by customer experience, from which we can all succeed.
Tiny Green PC is headquartered in cyberspace with a physical head office in London, and sales and ops across Europe, the Middle East, North America and Asia. Inside these offices are great teams of techie geeks, commercial wizards and green ambassadors who are all passionate about our products, energy friendly technology and making customers happy through excellent quality and service.
For more information please visit http://www.tinygreenpc.com
Contact details:
Lee O'Toole, European Marketing Communications Manager
Tiny Green PC, Bayham Place, London, NW1 0EU, UK
Tel: +44 (0)20 7388 7171
Email: info(at)tinygreenpc(dot)com