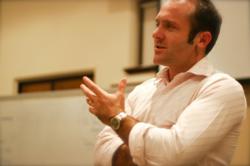 Boys are facing a major crisis.
Canberra Australia (PRWEB) March 20, 2013
Prominent education business Choicez Media has just released a major new boy's education program called The Men We Need.
Based on their extensive work with the over a quarter of a million young people in recent years the program, designed by husband and wife co-founders, Jonathan and Karen Doyle delivers a comprehensive suite of online and print resources for co-educational and all-boys schools.
The program aims to address a range of major issues facing young men such as absent fathers, pornography and Internet addiction, alcohol, sex and relationship decision- making and much more.
Choicez founder Jonathan Doyle commented, "So many parents and educators are very aware that our young men are facing major issues. Our boys face enormous cultural pressures but are given so little support in what it means to be a fine man. It is time for that to change."
The program offers schools access to a private online learning area consisting of seven major classroom video modules that are accompanied by student workbooks and teacher manuals and also access to a series of powerful posters that reinforce key learning outcomes. Numerous education leaders have endorsed the work of Choicez Media and the hope is that the program will receive a warm reception within the global education community.
Karen Doyle states, "It was our study in post graduate areas that became the driving force behind all our work and especially what we aim to accomplish with this program. Each young man has so much to offer the world. Pornography and other forces are powerfully impacting our boys and schools have a unique opportunity to make a real difference."
The program can be viewed at http://men.choicez.com.au/