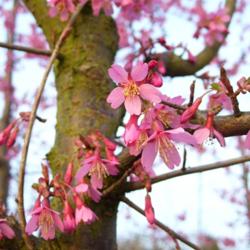 English Woodlands are promoting plants for early spring interest, better serving customers who hope to see the fruits of their labour as soon as possible
East-Sussex (PRWEB UK) 20 March 2013
Spring is an extremely significant time for most gardeners, especially at a time like now, after a cold wet winter for most areas. Spring essentially represents the payoff for the hard labour gardeners have worked on over the winter. Planned features and structures finally begin to grow, and much-appreciated colour is reintroduced to a commonly sparse winter environment.
Many gardeners hope to see some fruits of their labour as soon as possible, which is why English Woodlands, an east-Sussex based supplier of trees and plants, are promoting plants for early spring interest to better serve their customers during the period.
The plants being promoted cover larger trees, such as the 'Flowering Cherry' (Prunus okame) and 'Black Cherry Plum' (Prunus cerasifera 'Nigra'). Prunus okame is a small tree, ultimately reaching 3-5m in height, and spread, where Prunus cerasifera can achieve closer to 8-10m. The specimens feature carmine and pale pink flowers respectively, blooming in early spring.
These plants are being promoted through a series of spotlight blogs on the English Woodlands site, though other plants are recommended to customers based on their desirable traits, including a number of smaller shrubs. Camellia japonica is being promoted for its white, pink and cerise blooms, where Magnolia stellata is recommended for the large, exuberant and white star-shaped flowers they display during the season.
A customer service representative from the tree nursery was available to comment on their new focus. 'Gardening is naturally a very seasonal pursuit, and we understand many gardeners hope to bring colourful interest to their garden as soon as they're able. Our customers continue to invest plants for their imminent flowering throughout the spring season, so by reaching out to them through blogs and social content we hope they'll gain a better idea of what direction they want to take.'
The company is currently engaged in making their website a more comprehensive source for planting and species information, aimed at better supporting customers with their purchases. The most recent effort to promote plants possessing early spring interest is the latest in a long line of series, including cold weather storage and plants for winter interest.
English Woodlands are an east-Sussex based supplier of trees, plants and planting accessories. By better supporting their customers' seasonal decisions throughout the year, they hope to see them more satisfied by their purchases.