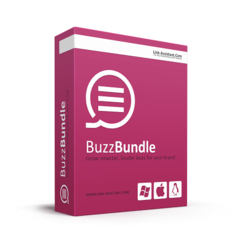 What we're proud to be announcing today is that we cut down on all the inessential and confusing features, while adding new functionality and preserving top winning points of BuzzBundle.
Minsk, Belarus (PRWEB) March 20, 2013
Link-Assistant.Com, the technology leader in SEO and social media management solutions, announced this morning the release of BuzzBundle 2.0b. This new version is reported to be a game changer for running social media campaigns due to a variety of new features, major usability and workflow improvements. First introduced in beta in November 2012, BuzzBundle is unique software that provides users with (1) the fullest account of their brand mentions and links in social media and (2) an opportunity to manage activities on Twitter, Facebook, LinkedIn, Google+ and hundreds of forums and blogs.
*Why social media management software?*
These days, social media is far beyond staying current with what ones' real-life acquaintances are up to. It's breakthrough communication, surpassing traditional forms of marketing. Big or small, brands must be aware of what people are talking about them or their industry and react to these conversations in good time, showcasing support excellence, industry expertise and readiness to handle any feedback.
That's where all-embracing social media management software comes into play. SM managers don't have to switch between different apps to make sure they found each and every mention and to market on a variety of social networks from different team members.
"We'd like to thank every of the 73,457 users who actively provided feedback on how we can make BuzzBundle truly a one-stop-shop for focused reputation and social media management," says Viktar Khamianok, CEO, Link-Assistant.Com.
"What we're proud to be announcing today is that we cut down on all the inessential and confusing features, while adding new functionality and preserving top 3 winning points of BuzzBundle, namely (1) the broadest social media coverage, (2) the opportunity for one person to manage dozens of social media accounts and (3) easy posting and messaging," continues Viktar.
"One of the popular issues reported in the previous version was the mandatory assigning of each BuzzBundle project with a particular URL, resulting in excessive reporting on this URL's mentions in the streams. As our customers have pointed out, sometimes people just monitor the niche without binding it to a particular URL, so URLs have become optional in BuzzBundle 2.0b. Even though, users can still associate certain sites with particular group of keywords for more focused social mention results," explains Viktar.
*Other major tweaks in BuzzBundle 2.0b include:*
1. Convenient side-bar navigation – to instantly switch between social media instruments
2. One working area for all social streams – to create and instantly access multiple tabs
3. Keyword groups – to monitor social buzz for specific promo campaigns
4. "My activities" module – to have all the recent activities put together
5. "Private messages" module – to browse and manage personal correspondence.
Go through the slides on the right of this press release (available on PRWeb site) to see these new features in action.
Watch a short video to get an idea of what BuzzBundle 2.0b is about at http://www.link-assistant.com/buzzbundle/new-buzzbundle.html.
Keen on internet marketing software? Say hello to Link-Assistant.Com on Facebook fb.me/LinkAssistant, Twitter @LinkAssistant or Google Plus gplus.to/LinkAssistant.
*About Link-Assistant.Com*
Started in 2005, Link-Assistant.Com is the software house, focused on creating software for bloggers, online marketers and social media enthusiasts. The company's products include 1. SEO PowerSuite (all-in-one desktop SEO software) and 2. BuzzBundle (desktop social media management app). To be in the know of Link-Assistant.Com's news, read the company's blog.