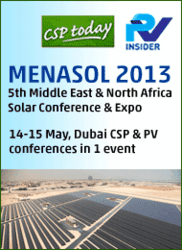 London, UK (PRWEB UK) 24 March 2013
In an interview with PV Insider, Rockwell explained that "at this stage, it's hard to pick one [technology] over the other. There are many technologies emerging and Saudi Arabia will be a great incubator for some new and emerging technologies."
While job creation is one of the key facets to the Saudi Arabia solar policy, for both technologies "they will be very interested where manufacturing is not dependant on just lots of hands and labour, it can be automated".
Commentators have noted that localisation is the name of the game in Saudi Arabia now, and Rockwell advised international companies looking into the market with the maxim "measure twice and cut once". "Sometimes there is a rush in the market to find a local partner," he explained. "Companies must go to understand the market, understand the culture you're dealing with and know it is a very personalised, relationship-based business."
Success in Saudi Arabia will "pave the way" for solar projects throughout the region, according to Rockwell. However, it will take time for Saudi Arabia to develop and the competition will have to play out. "We have to be patient with the market and don't expect everything to happen straightaway. The positive right now is that we have a programme and Saudi Arabia is starting to get some traction - so hopefully we will see it unfold in the months and years ahead."
SASIA are partnering with CSP Today/PV Insider for MENASOL 2013 (May 14-15, Dubai). The conference will bring a delegation from KA-CARE to discuss the market opportunities there, as well as addressing surrounding markets such as the U.A.E., Jordan, Kuwait, Oman and more.
For more information please visit http://www.pv-insider.com/menasol
Contact:
Matt Carr
[matt@pv-insider.com