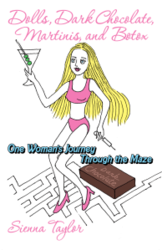 As decades go by, aging rears its ugly head.
MAPLE GROVE, MN (PRWEB) March 20, 2013
Although aging is inevitable, not everybody feels resigned to the process – especially women. In her new book, first-time author Sienna Taylor presents a tongue-in-cheek journey of discovery, confusion, experimentation, shock and – finally – acceptance of aging. Taylor covers dolls and representations of beauty, hormones, beauty treatments and the importance of martinis and chocolate as weapons in a woman's arsenal to stop, reverse and erase effects of aging.
"Dolls, Dark Chocolate, Martinis, and Botox: One Woman's Journey through the Maze" details different stages in a woman's life, starting with the youth and glowing skin she takes for granted. As decades go by, aging rears its ugly head. Cellulite and saddlebags appear, tanning adds color (but not in a good way) and hair appears in unexpected places. "Even if you are not a vain person, the amount of changes that happen so quickly are a little shocking," Taylor writes.
Even as she describes the long list of procedures to combat aging's effects, Taylor eventually reaches the point where she can accept many of the changes time has wrought and celebrate womanhood. As she writes in the final chapter, "I am blessed to have a view into the world of talented and gorgeous women who show me that being a woman is an incredible and fascinating journey." This is the first book for author Sienna Taylor, who works in technology and lives with her golden retriever, Sammy, in Minnesota.
----------
For additional information, please visit http://www.BotoxandBellyFat.com.
Dolls, Dark Chocolate, Martinis, and Botox: One Woman's Journey through the Maze
Sienna Taylor
Dog Ear Publishing
ISBN: 978-1-4575-1498-2 84 pages $12.99 US
Available at Ingram, Amazon.com, Barnes & Noble and fine bookstores everywhere.
About Dog Ear Publishing, LLC
Dog Ear Publishing offers completely customized self-publishing services for independent authors. We provide cost-effective, fast, and highly profitable services to publish and distribute independently published books. Our book publishing and distribution services reach worldwide. Dog Ear authors retain all rights and complete creative control throughout the entire self-publishing process. Self-publishing services are available globally at http://www.dogearpublishing.net
and from our offices in Indianapolis.
Dog Ear Publishing – self-publishing that actually makes sense.