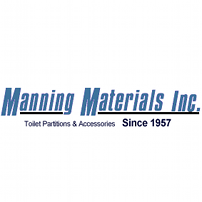 We hope whoever is in charge with the replacement and renovation will do some research to learn what options are available, what the costs are, and plan how long they need their bathroom partitions to last
Nashville, Tennessee (PRWEB) March 26, 2013
Manning Materials has launched a new resource for those who need to upgrade their existing restrooms. One extreme need Manning Materials has seen is in public schools, many of which are dated.
A recent report by The Center for Green Schools shows public schools need at least $270 billion to restore them to their original condition. They need twice that to bring them up to date. One of the areas of concern is the restrooms.
In Annapolis, Maryland last month, students and parents rallied about school funding. One of the things specifically mentioned by parents is the dilapidated bathrooms. They are are in such bad condition that people don't feel comfortable using them. Unfortunately, this story is seen repeated throughout the country.
"Bathroom stalls in older schools are often dilapidated and in obvious need of repair or replacement. These bathrooms can be 20-25 years old. Schools are getting complaints from parents about how embarrassed they are for the restroom facilities their kids to have to utilize. A lot has changed since those stalls were purchased. There are many more options and materials on the market than when these existing stalls were put in," said Roy Manning, Owner of Manning Materials.
"We hope whoever is in charge with the replacement and renovation will do some research to learn what options are available, what the costs are, and plan how long they need their bathroom partitions to last. We want to help out and steer them in the right direction to meet their budget."
One of the first articles in the resource center compares the various types of materials that can be used in partitions, along with their advantages and disadvantages. Read more at:
http://www.manningmaterialsinc.com/index.php?q=node/28
One trend Manning Materials has seen with all types of building, is the desire for more privacy. They want stalls without any gaps so the height of the doors and panels goes almost to the floor. Contrast that with traditional partitions that are 12 to 14 inches off the floor and have roughly 1/8th to a quarter inch gap beneath the side of the door.
Watch the Resource Center for more tips and trends.
About Manning Materials
Manning Materials is located in Nashville, Tennessee, and has been in business for over 50 years. Established in 1957 by Roy Manning, Jr., the company started as a manufacturer's agent representing suppliers of architectural specialties for the construction industry.
Now expanded to include three generations of the Manning family, we have a full team of sales professionals and expert installers of bathroom toilet partitions and accessories.
Manning Materials has furnished materials for construction jobs from coast to coast, including HCA Hospitals, Vanderbilt University, Opryland Hotel, the Grand Ole Opry, Louisiana Parish
Schools and LP Field, Home of the Tennessee Titans NFL team.
We sell bathroom toilet partition materials and accessories as well as other commercial construction materials. Manning Materials wants to be the place you come back to for years to come. Because at Manning Materials, we know this business isn't just about building - it's about building business relationships.