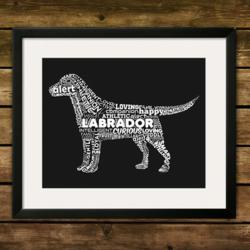 The Labrador items are gorgeous, with top quality art and materials
Darien, CT (PRWEB) March 22, 2013
People searching online for cool and interesting Labrador Retriever products have a new resource -- the Labradors.com Store, offering hand-picked products for Labrador lovers. Created by Labradors.com, the store offers unique items such as high-quality art prints, attractive housewares like customizable Labrador pillows and pottery, and items for everyday use such as bumper stickers and Labrador t-shirts.
"We promise that the items we offer will be gorgeous and will use only top quality art and materials," says Labradors.com co-founder David Lefkowitz, "and we back them up with a 30 day satisfaction guarantee and great customer service." Artists and manufacturers of Labrador products that fit that description are welcome to submit items for consideration to Products(at)Labradors(dot)com.
Labradors.com is a fast-growing online community of people who love Labradors. In the five weeks since its public launch Labradors.com has garnered over 3,400 Members and more than 37,000 Likes on Facebook. This remarkable rate of growth was a pleasant surprise for co-founder Jeff Smith. "There are countless online resources out there for dog owners, yet most are very general. They lack a clear vision for providing breed-specific information and resources for owners. People who love their dogs are committed to their well-being and deserve a platform for doing the best they can for their pet. Labradors.com was created to deliver the best breed-specific experience on the web for those who love Labrador Retrievers -- and the rapid uptake of membership is confirmation that we're delivering on that promise."
Members share stories, videos and photos of Labradors, learn from professionally written articles and from peer input, and save money on the full range of expenses that come with owning a dog. "We're really excited to log on each day and see what new information is being shared by our members. The interactive content will evolve based upon our member's interests and enthusiasm for communicating what's happening with their dog. We set out to make the site fun and easy to use and anticipate lots of humorous content along with tough issues that may take place over the lifespan of both dogs and their people," said Smith.
According to Smith, "We're out to enhance and expand the experience of dog ownership by building a community dedicated to Labradors and to also act as advocates for Labrador wellness and causes. Dogs count on us to provide them with safe, loving homes, so we're determined to do what we can to support the bond shared by dogs and their owners."
###
Coventure Media is an online marketing company specializing in managing ecommerce and online strategies for growing businesses. Please contact us for more information.