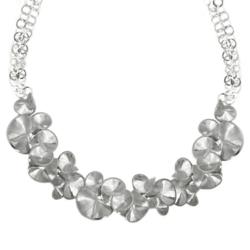 Kate is taking to London life so well she has named her latest hand engraved jewellery range the 'London Rhymes Collection'
Richmond, London (PRWEB UK) 22 March 2013
House of Jewellers is proud to announce that Kate Earlam has become a Queen Elizabeth Scholarship Trust Scholar, in recognition of her talent as a silversmith jeweller, an honour rarely awarded so early in a silversmith's career. It is a dream come true for Kate, who moved to Richmond, London in 2012 after winning the Goldsmiths' Company's Young Silversmith of the Year Award. Six months on, her award winning silver fruit bowl is in the Museum of Scotland, she has launched an exciting new jewellery range at House of Jewellers, and Kate is discovering that while the streets of London may not be paved with gold, silver is in high demand.
Starting out in business as a silversmith jeweller is not easy but Kate, age 26, is rapidly gaining an international reputation as an expert silver engraver and her silverware and jewellery is becoming highly collectible. Visitors to the prestigious Victoria & Albert Museum in London can see Kate's intricately engraved silver beaker on display in the Silver Galleries.
Originally from Ellesmere Port, Cheshire and educated at Liverpool Hope University, Kate is taking to London life so well she has named her latest hand-engraved jewellery range the 'London Rhymes Collection', after the cockney rhyming slang she's picked up at her workshop in the Goldsmiths' Centre in Clerkenwell. Kate chose to launch her beautiful new collection with the online jewellery store, House of Jewellers, which supports contemporary independent designer makers by showcasing and selling their work.
Commenting on Kate's success story, Jane Arneil from House of Jewellers said, "Kate Earlam is an inspiration. She is dedicated to mastering her craft and the award from the Queen Elizabeth Scholarship Trust is deserved acknowledgment of that. We are delighted that Kate has chosen to sell her beautiful jewellery through House of Jewellers."
Asked how Kate is making a successful start to her business in the current economic climate she said, "I'm passionate about what I do. I'm always filled with ideas and a desire to create beautiful new work, like my new hand-engraved London Rhymes Jewellery Collection." Commenting on the QEST award Kate added, "It is a great privilege to have been awarded the QEST scholarship, the award will enable me to attend a master class given by Rod Kelly, one of the UK's leading silversmiths, in Scotland's Shetland Islands this summer."
About House of Jewellers
House of Jewellers is an online jewellery and silverware store selling designer originals. Based in London, they specialise in contemporary British design. House of Jewellers designers are all outstanding silversmith jewellers and many of their unique designs are highly sought after by silver collectors. House of Jewellers' mission is to support independent jeweller silversmiths, by showcasing and selling their original handmade products. To find out more about House of Jewellers, the designers and their work please visit http://www.houseofjewellers.co.uk