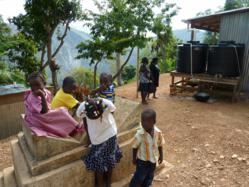 "When you consider the relatively small amount of money and effort required to provide potable water, compared to the number of actual lives saved, water emerges as the lowest hanging fruit on philanthropy's tree."
Philadelphia, PA (PRWEB) March 21, 2013
The newly released United Nations Development Programme's (UNDP) ground-breaking 2013 Human Development Report, which introduces a new standard of measuring the factors contributing to global poverty, indicates significant progress in improving living standards for those living in the developing world.
"It's great news that, according to the Human Development Report, there are fewer people fitting the definition of poverty than in recent years. However, because water affects people in the area of every indicator evaluated in the research, it continues to be the single highest priority physical need in the world today," says TJ Foltz, President of Philadelphia-based Humankind Water.
Foltz continues, "When you consider the relatively small amount of money and effort required to provide potable water, compared to the number of actual lives saved, water emerges as the lowest hanging fruit on philanthropy's tree."
According to the report's index of countries classified as Low or Medium Human Development areas, the need to intensify efforts to provide access to clean water is as great as ever. The lowest ranking countries are widely known to lack access to clean water, which impacts other areas measured in the new multi-dimensional poverty index - including those in health and education categories.
"This is precisely why Humankind Water was founded," said Foltz. "We exist to end the global water crisis through our commitment to donating 100 per cent of our net water sales profits to establishing wells and filtration systems in areas which lack access."
About Humankind Water: Humankind Water was founded in 2011 to bottle and sell premium spring water. We give 100% of our net profits to fund wells and filtration systems in areas of the world where people are literally dying for access to clean drinking water. Humankind Water won the 2012 WalMart "Get On the Shelf" competition, beating more than 4000 other products and having sold in excess of 75,000 units to date. On the web at http://humankindwater.org.
About Give 100 Foundation: Give 100 Foundation is a 501(c)3 non-profit organization. It is the giving arm of Humankind Water and the channel through which water systems are funded and built in partnership with established non-profit water organizations. Since its inception, more than 11 wells and filtration systems have been placed in Haiti, Malawi and Uganda.