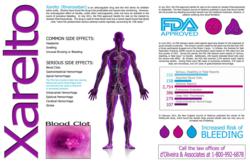 (PRWEB) March 25, 2013
In July of 2011, the FDA announced that it had approved Xarelto to prevent deep vein thrombosis in patients undergoing hip or knee replacement surgery (i). In November, the FDA expanded Xarelto's approval to include the prevention of stroke in patients with atrial fibrillation. One year later the FDA gave its approval of the drug to prevent the recurrence of blood clots. However, according to The New York Times, an FDA panel voted against approving Xarelto for the treatment of acute coronary syndrome (ACS) (ii). Specifically, the panel was concerned that 15 percent of the participants in a study of Xarelto and ACS dropped out.
According to QuarterWatch, a report published by the Institute for Safe Medication Practices, the FDA received 356 adverse event reports of "serious, disabling, or fatal injury" for Xarelto in the first quarter of 2012 (iii). Additionally, the report stated that blood clots "were the predominant serious adverse events reported, accounting for 158 cases." By October, the FDA had received 2,754 adverse event reports concerning Xarelto. Among these were 386 cases of pulmonary embolism, 279 cases of deep vein thrombosis, and 107 cases of gastrointestinal hemorrhage (iv).
The Xarelto infographic provides a summary of drug information and lists possible side effects. Additionally, it provides information on a study published in the New England Journal of Medicine, which found that the anticoagulant drug may increase the risk of hemorrhaging (v). Visit the Xarelto section of d'Oliveira & Associates website and view the infographic here.
If you or a loved one has suffered Xarelto side effects, you may want to speak with a lawyer regarding a claim. A personal injury lawyer familiar with new developments in the investigation of Xarelto may be able to assist you in making important personal and legal decisions. Our firm is working with some of the most experienced Xarelto lawyers in the country who are handling these cases.
Please contact the law offices of d'Oliveira & Associates, P.C. at 1-800-992-6878 or fill out a contact form for a free legal consultation.
(i) drugs.com/history/xarelto.html
(ii) nytimes.com/2012/05/24/business/fda-panel-votes-against-expansion-of-xarelto.html?_r=4&src=recg&
(iii) ismp.org/quarterwatch/pdfs/2012Q1.pdf
(iv) http://www.adverseevents.com/drugdetail.php?AEDrugID=5158&BrandName=XARELTO
(v) nejm.org/doi/full/10.1056/NEJMoa1111096