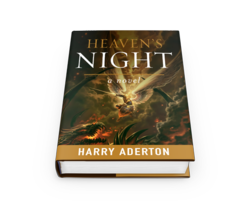 RED BANK, NJ (PRWEB) March 20, 2013
Spitball Advertising implemented an inventive marketing plan for author Harry Aderton and his novel, "Heaven's Night" that would lead to wide recognition, a distribution deal with Emerald Book Company and a series of book signings at Barnes & Noble.
"This book had all of the makings of an action movie," said Spitball Co-Founder and CCO Steve Bailey. "We looked at other novels of similar genres and found that the authors or publishers all pretty much just posted their books in the sea of others with nothing special to promote sales. It quickly became evident that we needed something that was different."
After intense brainstorming sessions, Spitball commissioned custom illustrations from key scenes in the book. Layer separations and effects were added to create a fast-paced trailer to be used as media for marketing the epic novel. The book's website features the trailer as well as a unique, scrolling, one-page design that reinforces the powerful imagery of the marketing campaign.
On working with Spitball for the first time, author Harry Aderton said, "I had written a book, "Heaven's Night", and intended to sell it on e-retail sites. I really liked the work Spitball had done for others." He adds, "And despite their not having experience working with authors, I felt they would 'get it' better than any of the others I'd talked to. And it turns out they really did."
After a short couple of months, Aderton received the news that Emerald Book Company would distribute his first novel and sell the hard-cover book at Barnes & Noble stores. As of March 2013, it is currently available at Barnes & Noble, where he will appear at upcoming book signings, as well as Amazon.com and other fine retailers.
"This is what I wanted from the beginning" said Aderton. "Things have moved extremely fast and I'm just so thankful that the trailer was such a hit. Heck, I still watch it 5 times a day myself!"
The trailer is available for viewing at http://www.harryaderton.com.
-------------------------------
Spitball Advertising was formed in 2006 in Red Bank, NJ as a full service marketing and design agency. Our main philosophy is to pelt the walls with the most innovative yet strategic ideas to see what sticks then deliver these programs to clients looking to break through the clutter to reach their customers. Spitball enjoys crafting Ideas That Stick® for Cholula Hot Sauce, Reproductive Medicine Associates of New Jersey, iCIMS, Township of Red Bank (NJ), Fundtech, Atlantic City and other creative-focused companies. To get the full Spitball experience, visit http://www.spit-ball.com.
###