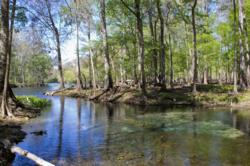 Fort White, FL (PRWEB) March 27, 2013
The "Santa Fe 561" tract features a second magnitude fresh water spring, documented to produce between 3.5-4 million gallons of water per day. Additionally, there is 4,500ft of frontage on the crystal clear Santa Fe River. The 561 total acres is made up of 250 acres of developing planted pine trees and 200 acres of recently timbered hardwoods; the balance in preserved natural forest.
"Springs in Florida with this kind of volume actively for sale are not a common thing," says William Golightly of Poole Realty Inc., the listing agent and chief marketer of the property. "A lot of the large tracts with desirable features like this were subdivided in the boom time of the 2005 era. You've got great paved road access, it's in a quaint rural area of North Florida, the water frontage itself is beautiful, and the spring is pretty much priceless."
Golightly produced a 5 minute video tour of the property that has a unique feature as well: underwater footage. "You haven't seen refreshing crystal clear water till you've experienced Florida Spring water. And if you haven't, this video will get you pretty close!" he noted.
The parcel also boasts another feature: it is just across the river from world renowned Ginnie Springs campground.
While the real-estate market in most parts of the country is still in recovery mode, William said he sees more and more signs of revival every day. "We've had a substantially decreasing inventory in site built residential homes in our MLS board, and we are seeing multiple offer scenarios on all types of property again. We are busier in the last 6 months than we have been in years. I don't want to jump the gun, but the practical data is there. There are so many opportunities with a tract like this, and I really do feel like this is the right time in the market to take the plunge, literally," Golightly said.
William Golightly is an SFR designated REALTOR that specializes in unconventional marketing processes and internet exposure for unique properties. He is also the son of 15 year North Florida real-estate industry veteran Enola Golightly. They work together as a team at Poole Realty in Live Oak, FL under the brokerage of Mr. Ronnie Poole. The office is consistently rated in the top 5% of production in their local MLS board.
William Golightly
Poole Realty, Inc.
386-590-6681
http://www.realtorsofnorthflorida.com
127 East Howard Street.
Live Oak, FL
32064