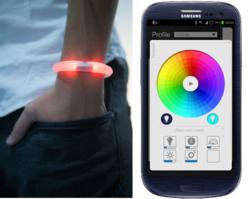 With EMBRACE+, we think everyone can live in the perfect balance of staying connected and living their lives.
Seattle, WA (PRWEB) March 21, 2013
With a stylish design, a customizable app, and light up alerts, the EMBRACE+ is unlike any other smart notification bracelet on the market today. Over 1,430 backers have realized the benefits of owning this innovative tech gadget, but everyone else only has two days left to purchase their EMBRACE+ on Kickstarter.
EMBRACE+ is more than just a smart notification bracelet; it is the modern day personalized pager. After downloading an app to their iPhone or Android, owners can manage their alert settings to work with their lifestyle. By customizing their EMBRACE+ notifications to light up specific colors, flash a certain number of times, or set the vibrate level, the wearer will be able to screen their alerts and only react if deemed necessary.
While sporting their stylish EMBRACE+, wearers gain the opportunity to stow their device out of the way, but still receive notifications of important calls, texts, emails, and other alerts. Without the hassle of excessive interruptions caused by smartphones, owners are no longer weighed down by worrying about missing alerts on their devices. EMBRACE+ gives wearers the freedom to focus on their work, participate in activities around them, and enjoy being in the company of family and friends.
"It is ridiculous how we stop our lives to continually check our smartphones for a constant stream of alerts," says co-founder Rudi Beijnen. "With EMBRACE+, we think everyone can live in the perfect balance of staying connected and living their lives. After receiving great publicity from popular websites, like Mashable and CNET, it is clear people agree."
EMBRACE+ has raised over $80,000, but needs your help in their remaining two days to reach their funding goal. Kickstarter rewards receiving the smart notification bracelet start at $49, and supporters can pledge more for bigger rewards. The creators of EMBRACE+ also encourage you to help spread word about EMBRACE+ by sharing over your social media networks on Facebook and Twitter. The Kickstarter campaign ends Saturday March 23 at 12:21pm, so don't wait before it is too late, head to the EMBRACE+ Kickstarter page now http://bit.ly/EMBRACEKS!
About EMBRACE+
EMBRACE+ was created by Paul Hornikx and Rudi Beijnen with the intent of keeping the connected generation connected to their smartphone devices no matter what it is they're doing. Paul and Rudi came up with the idea of EMBRACE+ while laughing about constantly checking their phones while out with friends. To solve this problem, the duo decided to come up with a solution and EMBRACE+ was born. EMBRACE+ is a stylish bracelet that allows users to customize notifications for incoming calls, text messages, social media apps and more. For more information on the product, visit http://bit.ly/EMBRACEKS, Like them on Facebook and Follow them on Twitter @embraceplus.