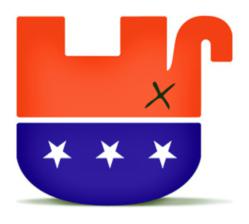 What lessons can be learned from the Republican defeat in the 2012 election?
Washington, DC (PRWEB) March 20, 2013
According to The Atlas Society's Ed Hudgins, "the Republican defeat in the 2012 elections was in part due to the GOP's failure to offer consistent pro-freedom policies. But that party is a coalition of libertarian-minded constitutionalists, social conservatives, and status-quo oriented neo-conservatives."
Hudgins adds, "These factions are locked in a civil war over fundamental issues: Should the party focus on rolling back the welfare state or simply makie it operate more effectively? Should they push a social agenda that limits liberty? And what, exactly, is possible in politics anyway? Can the GOP be reformed? Does the Libertarian Party offer a viable alternative? And do the Democrats offer any hope?"
On March 25, 2013, from 9:00pm -10:00pm Eastern, The Atlas Society will broadcast a live, interactive webinar on this issue. Register at this link: http://www.atlassociety.org/ele/republicans-libertarians-future
After the short presentation, the webinar audience will be able to submit questions.
Find out more here: Register at this link: http://www.atlassociety.org/ele/republicans-libertarians-future
ABOUT ED HUDGINS
Ed Hudgins is director of advocacy and a senior scholar at The Atlas Society. He has worked at the Heritage Foundation, the Cato Institute, and the Joint Economic Committee of the U.S. Congress. Hudgins is author of several hundred pieces on public policy, and has edited books on space, postal service, and international trade. He has written extensively on social and moral issues and is editor and principal author of "Straight Talk about the Soul of the Republican Party" and "An Objectivist Secular Reader." His opinion writing has appeared in the "Wall Street Journal," "Houston Chronicle," "USA Today," and "Philadelphia Inquirer," among other publications. He has appeared on Fox News, CNN, MSNBC, CSPAN, and most major news networks.
Hudgins has a Ph.D. in political philosophy from Catholic University of America and has taught at universities in the United States and Germany.
ABOUT THE ATLAS SOCIETY:
The Atlas Society promotes open Objectivism: the philosophy of reason, achievement, individualism, and freedom. Our scholars work to further develop this philosophy born in the mid-twentieth century. We present the empowering principles of Objectivism to a global audience, and offer those principles as a rational and moral alternative in the marketplace of philosophical ideas.
We do this through a variety of programs, which include:
-Original scholarly research which further develops the philosophy.
-Academic training of young intellectuals.
-Publishing and commissioning influential books and monographs.
-Our rich multi-media website
-Original commentary and op-eds published in mainstream media.
-Speeches and media appearances.