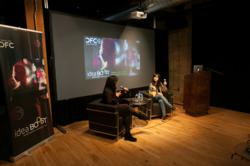 "This first cohort of digital entertainment companies represents some of the most forward-thinking content entrepreneurs in this sector," says Ana Serrano, Chief Digital Officer, CFC Media Lab.
Toronto, ON (PRWEB) March 20, 2013
The seven companies in the Canadian Film Centre Media Lab's inaugural ideaBOOST accelerator program took the wraps off the digital entertainment products they've been shaping for commercial launch today.
Having massaged, fine-tuned, perfected and, in at least one case, overhauled the go-to-market strategy for their digital entertainment content products, each of the seven digital entertainment companies will be pitching their properties to a crowd of industry buyers, partners and investors – including key players from ideaBOOST's three founders, Corus Entertainment, Google and Shaw Media – at the Steam Whistle Brewing Roundhouse, Wed, Mar. 20.
A digital entertainment accelerator focussed on both content and technology companies, ideaBOOST's first cohort brought together some of Canada's long-standing production powerhouses like Smokebomb Entertainment, Intuitive Pictures, and Phantom Compass, alongside Canada's rising stars in the future of entertainment, such as Apprentice A Productions, AsapSCIENCE, YAMANTAKA // SONIC TITAN and Raised on Ramen. The next cohort, set to begin in May, will have as its focus enabling-technology platforms for the entertainment industry.
"This first cohort of digital entertainment companies represents some of the most forward-thinking content entrepreneurs in this sector," says Ana Serrano, Chief Digital Officer, CFC Media Lab. "By taking advantage of what ideaBOOST has to offer, and developing products whose intellectual property, processes, and underlying technologies can be re-used, re-mixed, and leveraged over time, these seven companies are well-poised for success and a sustainable future."
"We had a pretty clear vision of what we wanted AsapSCIENCE to mean to audiences," says AsapSCIENCE co-creator Mitchell Moffitt, "but the ideaBOOST experience showed us how to really hone the specific business path we could follow to take this little pet project of ours and turn it into something really big."
The final products and creators are:
AsapSCIENCE (Mitchell Moffit and Gregory Brown): A content product that aims to bridge the gap between traditional and digital educational platforms and build a global community of scientific curiosity, questioning, and learning by focusing on quirky, real-life scenarios from the scientific worlds of biology, chemistry, physics, and more.
The BUFFER Film Festival (Apprentice A Productions): A unique, internationally accessible, annual digital film festival to help launch, promote, and advance the best creative work from established and emerging YouTube creators.
The Ghost Town Project (Intuitive Pictures): A passionate and engaging video-based transmedia initiative that will be a key spark in bringing a number of abandoned buildings and other important civic sites in different communities around the world back to life, one project at a time.
The Path (SmokeBomb Entertainment): An urban-fantasy digital series and a "hosted" social experience that aims to stimulate viewers to participate in a fully interactive, multi-platform experience that includes participating in the creation of a story world.
Ramen Party (Lillian Chan and John Poon): A cross-platform entertainment property, including interactive storybook app, that gets preschool children and their trend-savvy parents interested in music, food, and culture by introducing them to quirky animated characters based on Japanese food ingredients.
Rollers of the Realm (Phantom Compass): A video game that combines the frantic physics of classic arcade pinball with the character-driven adventure of fantasy role-playing games, set in a world of dark and ancient magic.
YOUR TASK // SHOOT THINGS (YS // ST Labs): A side-scrolling rhythm tap video game, setting the pacing and ease-of-play of Infinite Runners against the music, art, and world of critically-acclaimed art collective Yamantaka//Sonic Titan.
Pre-registration for the second ideaBOOST cohort has begun, with the application portal at http://www.ideaboost.ca opening for public voting on Mar. 25. The deadline for applications is Apr. 18. A shortlist of program candidates will be announced on Apr. 26.
ABOUT ideaBOOST
ideaBOOST is a business accelerator with a difference - a bootcamp for companies that want to navigate an entertainment ecosystem that has been radically disrupted by new technologies and demanding audience expectations. Companies selected to participate in ideaBOOST get the budget, tools, training, and mentorship designed to help bring their product to market and improve their chances of success with audiences, investors, and partners. ideaBOOST is an initiative of the CFC Media Lab, with founding partners Corus Entertainment, Google and Shaw Media. http://www.ideaboost.ca
About the CFC Media Lab
Created in 1997 by the Canadian Film Centre (http://www.cfccreates.com), the CFC Media Lab provides a unique collaborative training, acceleration and creative production think-tank environment for emerging new media content developers, practitioners and companies. An internationally acclaimed and award-winning facility, graduates of the CFC Media Lab emerge as leaders in the world of interactive media, produce innovative projects and start up 21st century companies.