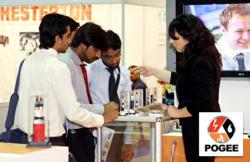 Eland excels in the field of international oil and gas project supply
(PRWEB UK) 28 March 2013
Eland Cables are exhibiting at the Pakistan Oil, Gas and Energy Exhibition (POGEE) in Lahore from Thursday 30th May to Saturday 1st June 2013.
About POGEE
This year's POGEE marks the 11th international exhibition for the energy industry. Taking place at the Expo Centre in Lahore, POGEE brings together over 200 exhibitors from more than 32 countries; its aim to develop new partnerships that work towards enhancing Pakistan's Oil and Gas Industry.
The need for investment and facilities to cater for energy demand is rising as Pakistan's energy requirements increase. According to the Government of Pakistan's Ministry of Petroleum and Natural Resources, 'indigenous oil and gas production in the country is insufficient to cater for the domestic energy requirements.' Pakistan and its neighbouring regions – such as Iran, Turkmenistan and Tajikistan – are energy rich, presenting excellent opportunities for implementing new energy facilities such as electricity grids and oil and gas pipelines.
Eland Cables at POGEE
POGEE exhibitors are chosen for their potential to support the development of Pakistan's Oil and Gas Industry. As a major cable supplier to global oil and gas projects, Eland Cables has welcomed the opportunity to exhibit at POGEE 2013.
Eland is an FPAL-accredited organisation, meaning that they have full approval as a cable supplier to oil and gas procurement professionals. This accreditation recognises Eland's supply capacity within the oil and gas sector and takes into account their applicable cable range, delivery methods and relevant expertise. Eland's range of cables for oil and gas applications provides the resilience required in hazardous environments, and includes BS5308 Instrumentation Cables, EN50288-7 Instrumentation Cables, BFOU and BFCU Instrumentation Cables, Fire-Resistant Cables (including a Firecel range) and Medium Voltage Cables.
Imran Shah, responsible for International Business Development at Eland Cables, says: "As FPAL-accredited cable suppliers, Eland excels in the field of international oil and gas project supply. We are looking forward to exhibiting again at POGEE, following our success in 2012 and our market-leading position as a supplier to the Oil, Gas and Petrochemical Industries in Pakistan."
Eland is exhibiting in Hall 2 at Lahore's Expo Centre.
Contact
Contact Eland Cables today for more information
International: +44 20 7241 8787
UK: 020 7241 8787
Website: http://www.eland.co.uk