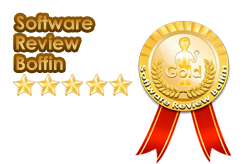 All three of these text to speech products ranked highly, with scores that were only marginally different.
New York City, NY (PRWEB) March 22, 2013
SoftwareReviewBoffin.com recently published an in-depth review of the top three text to speech software products currently available on the market. TextAloud was placed No.1 in all the reviews for text to speech software thanks to its high-level functionality and uninterrupted operation, the Boffin reviewer team reveals.
All three of these text to speech products ranked highly, with scores that were only marginally different. In fact, as the Boffin website suggests, TextAloud stands out from the competition mainly because it is a time-efficient text to speech converter that substantially cuts down reading time and promotes multitasking. It's easy for the user to sit back and listen to their emails, report documents, web pages, blogs or any other text-based information they need to scan and digest.
As the reviewers at Boffin website state, TextAloud was placed No.1, and the other top products Verbose and Able Reader were given second and third places respectively. TextAloud's winning score came largely in view of its seamless functionality. As the review specifically notes, the product's clarity and time-efficiency are particularly evident from its first use, making the software a go-to choice for people with just not enough time to read their on-screen and online text material.
The Boffin reviewers also note that TextAloud significantly enhances productivity, enabling the user to attend to other urgent tasks while simultaneously listening to their favorite journalist's article or blog. TextAloud is also, according to the Boffin software review website, the perfect aid for visually impaired computer users who wish to have a less demanding access to online information.
Lastly, the Boffin reviewers team emphasized that TextAloud might well be the solution to unburdening users from long hours of staring at the screen, a common but unhealthy phenomenon where people are forced to spend many hours in front of their computer monitoring reading material. TextAloud, due to its capacity to convert text to audio quickly and easily, significantly reduces reading time while at the same time allowing the user to deal with other tasks.
According to the Boffin website, this review of TextAloud and all other text to speech software products was carried out based on standard criteria, with a strict list of attributes a text to speech software should have in order to qualify for a top ranking. TextAloud exceeded their expectations, getting the No.1 place.
Note: This assessment will be reviewed regularly as new features are added and updated software releases are made available to the reviewers. The ranking of these particular software packages may change at any time in the future due to such new features or upgrades.
Software Review Boffin reviews the latest technological products on demand in the market right now. They provide expert, honest and straightforward reviews so customers can objectively measure if a product, especially software is well worth it before making their purchase.
To learn more about Software review Boffin visit http://www.softwarereviewboffin.com