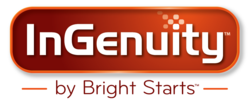 InGenuity offers a number of baby products which make great gifts for a little Prince or Princess.
Atlanta, GA (PRWEB) March 20, 2013
Duchess of Cambridge and wife of Prince William, Kate Middleton is expecting her first child this summer and Foxy Bingo has shortlisted her for Celebrity Mum of the Year 2013. There are high expectations for this mom to be, said Miles Bohannan, the VP of Marketing Communications for Kids II, the parent brand of InGenuity.
"We have high expectations she is going to be a trendsetter for new moms. There is also going to be a lot of pressure on her to be a role model for other new moms," said Bohannan. "She is also going to be a very busy mom."
Middleton's friends and family are likely excited to meet the new baby, which is due in July. The gender of the baby has not been announced, but one of the usual thoughts at this time is what to buy for the new baby.
"InGenuity offers a number of baby products which make great gifts for a little Prince or Princess. They're designed specially to help make life easier for busy parents, whether they have a royal engagement schedule or a typical, full agenda," said Bohannan.
The InGenuity Automatic Bouncer™ is the only bouncer on the market that truly bounces on its own, so a baby can relax even when parents are busy. A unique technology ensures smooth, consistent bouncing that mimics a parent's natural motion. The cradling seat with premium fabrics, eight melodies, and three nature sounds offer alternative ways to provide security and comfort for a child.
Another product, the InGenuity Cradle and Sway Swing™ also comes loaded with features. The seat rotates 180 degrees to provide multi-directional swinging motion. This means parents can choose side to side cradling or traditional front to back swinging motion, depending on what their baby loves best. A soothing vibration unit, eight melodies and three nature sounds ensure peaceful and comfortable swinging.
InGenuity is considered one of the most innovative brands in the baby category. The brand pairs clever ideas and inventive technologies to deliver smart products that keep babies soothed and satisfied while on their own, allowing parents do more with their limited time.
Other contenders for this year's Celebrity Mum of the Year include Paralympic gold medalist Sarah Storey, singer Adele, Britain's Got Talent judge Amanda Holden, Loose Women star Andrea Mclean, Victoria Beckham and her former Spice Girls band mate Emma Bunton. "InGenuity has gift ideas for all parents and parents-to-be, celebrity and non-celebrity," Bohannan said. "Let the best mum win!"
The winner can be voted for through foxybingo.com and will be announced sometime before Mother's Day.
ABOUT INGENUITY™
InGenuity combines the latest innovations with on-trend styling and plush fabrics to create the most soothing and attractive baby gear offering possible. Each product is designed with smart solutions, technologies and features that make life with baby even more enjoyable and easier for parents. From a bouncer that bounces by itself, to a swing that runs on one set of batteries for baby's first year, this brand of innovative gear products raises the bar on feature and fashion.
ABOUT KIDS II, INC.
Kids II has been inventing and reinventing baby and infant toys and gear for more than 40 years and has quickly become one of the world's fastest growing baby product companies. Headquartered in Atlanta, Kids II spans globally with operations in six continents serving customers in more than 70 countries. Driven by innovation, design and a comprehensive brand portfolio, Kids II is the next generation leader of infant and toddler products.
Kids II designs, markets and distributes more than 400 unique infant and toddler products, selling more than 22.8 million items per year. On average, it launches 125 new products a year. Under its flagship brands, Kids II has produced more than 100 award-winning products.
The brand portfolio strength runs deep under the Kids II umbrella, which includes its signature brands Bright Starts™, InGenuity™ and Comfort & Harmony™, as well as licenses to design and manufacture products for Disney™, Baby Einstein™, Oball™ and Taggies™.
Kids II's international affiliate operations are located in Australia, Canada, Europe, China, Hong Kong, Japan, Mexico and South Africa. Visit http://www.kidsii.com