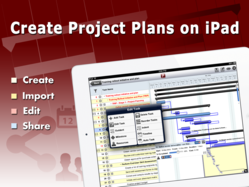 Great app - I can carry my Microsoft Project plans on the iPad while travelling or for meetings.

- Dick Hodges
Mystic, Connecticut (PRWEB) March 20, 2013
Project Planning Pro app for iPad is now able to import project plans created on Microsoft Project.
The plans can be imported as a XML file using Dropbox, email or via iTunes. New plans created in the app can also be exported back to Microsoft Project.
The app has been well received by its users. It was recently voted as Runner-Up, BestApp Ever Awards "Best Business App" at the Mobile World Congress 2013, Barcelona.
iTunes store link:
http://itunes.apple.com/app/project-planning-pro/id509886186?mt=8
App StoreReviews:
Loving it! - So far, extremely good! I've only had the app for a few days but am amazed at how easy it is to learn/use. I've entered one large project and have just upgraded to add a second. I am loving the ability to email assigned resources about specific tasks with just the press of a button. -Carrotcraft
Great tool - I used the app to plan a major move and was very pleased with it. It has the tools need to create a project plan easily, in as much detail or lack thereof as I wanted. I could easily assign resources, dates, predecessors, etc. or add, edit, reorder and/ or delete tasks easily. The app gave me what I expected. - Jphelps
Based in Mystic, Connecticut, i2e Consulting is a software services company providing innovative Enterprise solutions to clients across the Globe. i2e Consulting is a Microsoft Certified partner with niche in Portfolio Project Management. i2e Consulting Mobile division is developing on iOS, Android and Windows Apps.
Copyright © 2012 i2e Consulting. All Rights Reserved. Apple, the Apple logo, iPhone, iPod and iPad are registered trademarks of Apple Inc. in the U.S. and/or other countries. Microsoft and Microsoft Project are registered trademarks of Microsoft Corporation in the U.S. and/or other countries.