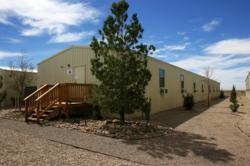 DeSoto, TX (PRWEB) March 20, 2013
Palomar Modular Buildings has spent the last few years working with man camp operators across North America to gain the in-the-trenches insight needed to refine their man camp building designs. The man camp designs start with the advantages offered by modular buildings, versatile cost-effective, rapid deployment structures, and is further augmented by all the amenities needed to keep the workforce happy and productive while maintaining a home away from home atmosphere.
The Palomar engineers have been busy fine tuning the advanced man camp building floor plans based on feedback from camp operators from the Bakken to the Permian Basin. Whether the need is for temporary extra housing capacity, an expansion project or a complete new facility from the ground up, Palomar has a floor plan that can satisfy a clients needs. Palomar has a dedicated team of engineers available to customize floor plans to meet client specifications.
Take a look at the latest man camp floor plans from Palomar Modular Buildings. The Palomar Modular Building advantage provides man camp operators with an environmentally-friendly, low waste, healthy, cost-effective structure in a fraction of the time it takes with conventional construction.