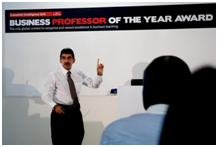 These four stellar business minds each had 35 minutes on the day, to 'lecture' themselves into the $100,000 prize money. True to the events billing as a 'teach-off.'
(PRWEB UK) 22 March 2013
What The Economist calls, "The only global contest to recognize and reward excellence in business teaching," – was a fast, furious, different and – perhaps most of all – fun event.
The process started out with 222 professors being nominated for the award by their own students. The field was cut to a long list of 15, and then down to four finalists. This year's finalists were:
Prof. Darren Dahl of the University of British Columbia, Canada – a marketing professor with special research interests in consumer behaviour, entrepreneurship and creativity.
Prof. Kevin Kaiser, INSEAD – An expert in corporate finance, strategy, and value creation – who was interviewed by IEDP last year.
Prof. Johanne Brunet – of HEC Montreal – a thought leader in the area of international marketing, creativity and innovation.
And finally the eventual winner, Prof. Vijay Sethi of Nanyang Technological University Singapore; specialising in IT entrepreneurship, electronic commerce, and knowledge management.
These four stellar business minds each had 35 minutes on the day, to 'lecture' themselves into the $100,000 prize money – true to the events billing as a 'teach-off.'
That is an incredibly condensed time period for teachers used to expounding on complex ideas over three hour lectures – or even three- day events.
This gave a great vibrancy and sense of urgency to the proceedings – and a fantastic energy, as big ideas pinged around the room at a much greater velocity than we are used to experiencing them.
Votes were cast by the online audience watching via stream – and also a panel of judges in the room cast their votes. Both these sets of voters cast in tandem for the impressive Professor Darren Dahl from the University of British Columbia, with his captivating, inspirational yet relaxed delivery.
The online audience could live tweet throughout the lectures, where their input were collated and displayed in real time as a discussion forum. With the twin topics of MOOCs and Online Learning hotter on the lips of educationalists than ever before this year – this was a resounding example of how to make an online learning experience stimulating and involving.
But these worked as a guide-only to the audience in the room – the class of 40 students assembled from 20 different business schools; and with this crucial group the majority vote was with Professor Vijay Sethi.
Professor Sethi gave a compelling lecture on technology and digital networks in particular – as the dominant force in the future that will drive how businesses will be run. Chair of the judging panel Bill Ridgers said "Vijay was clearly a very worthy winner. He took some complicated ideas and made them accessible and engaging to the audience. Congratulations to him and the other 3 fantastic professors who took part."
For the full write up from IEDP - read on here.