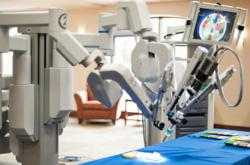 If I had one piece of advice to give a patient wanting a robotic procedure it would be to make sure you find someone with experience.
Frisco, TX (PRWEB) March 22, 2013
The head of gynecologic surgery at Texas OB Gyn, Dr. George Branning, has just successfully completed his 300th robotic surgery—a procedure only performed by a handful of elite surgeons in the field of gynecology. The procedure was not only a milestone in the surgical career of Dr. Branning, but also indicates a shift toward more technologically sophisticated approaches to similar surgeries.
The traditional "open" surgery performed by most gynecologists leaves the patients with at least 6 weeks of recovery, greater potential blood loss and more reliance on narcotic pain medicine. The beauty of the Da Vinci Robotic Surgical System is both the minimal invasiveness of the process and the incredible vision afforded to the surgeon. Dr. Branning says, "Phenomenal vision translates into improved ability that translates into improved safety, that in total translates into quicker return to her life." Dr. Branning's patients are usually back on their feet and at work in 1 ½ to 2 weeks. "Few women now a days have 6 weeks to give up, but give me 2 weeks and I can change their life." For the robotic surgeon the system yields 10x magnification, 1080P hi-definition, and stereoscopic vision. "After around 50 cases there is a sense of total immersion for the surgeon. I feel as though I've been miniaturized and am standing in the patient's abdomen operating with these magnificent tools. It's a game changer…it's a better operation."
Dr. Branning completed his 300th robotic case last Friday. It was the last of 5 cases and the OR crew gave him an impromptu celebration. "There's no way I could have done 5 open cases or even 5 laparoscopic hysterectomies in one day. My back would have really paid the price." The Da Vinci Surgical System allows the surgeon to sit in an ergonomically appropriate position. It's not only seen as a phenomenal means to perform a safer operation, it's also seen as a career extender for the surgeon.
Very few Gynecological surgeons actually possess the training and expertise to use the Da Vinci Surgical System. Dr. Branning's extensive history with the device - he became certified on the system in 2007 - not only places him among the most elite practitioners in his field, but in the highest echelon of physicians who operate with this system. This medical ability translates to a more comprehensive and effective surgery for all of his valued patients, most of whom report astoundingly fast recovery times for otherwise serious surgeries.
Dr. Branning continues to expand his surgery schedule so that more women can benefit from the Da Vinci system's revolutionary approach to surgery. "There are robotic surgeons and there are robotic surgeons," remarks Dr. Branning. "If I had one piece of advice to give a patient wanting a robotic procedure it would be to make sure you find someone with experience." Dr. Branning will continue to spearhead the movement toward more technologically-advanced approaches to his field of gynecologic surgery into the next 300 procedures, and beyond.
Based in Frisco, TX, Texas Ob Gyn is determined to offer the most comprehensive approach to Obstetrics and Gynecology available in the country. Headed by Dr. George Branning, the medical staff at Texas Ob Gyn shares a philosophy of thorough care and effective treatment, as well as a strong history of patient satisfaction. Texas Ob Gyn is one of only a handful of facilities that operates with the Da Vinci Surgery System, with Dr. Branning being one of the leaders in this now popular movement. Learn more about Dr. Branning and our services and staff at Texas Ob Gyn at http://www.texasobgyn.com.