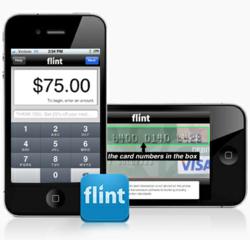 Customers have rapidly adopted the Flint iOS app since launching in November 2012, and usage has more than doubled in the last six weeks
Boston, MA (PRWEB) March 21, 2013
At the PYMNTS.com Innovation Project today, Flint Mobile, Inc. (http://www.flint.com), the mobile payments company that makes it easy for on-the-go businesses to accept credit card payments and to maximize customer engagement through their iPhones, announced a partnership with Fidano (http://www.fidano.com), a subsidiary of NXGEN International, one of the largest merchant service providers. Flint provides a unique, frictionless solution for mobile small businesses by eliminating the need for extra card reader hardware or reliance on consumer adoption of a proprietary mobile wallet. NXGEN International processes over $5 billion in transaction volume per year and is partnering with Flint to drive growth in the untapped market segment of mobile non-countertop businesses. NXGEN integrates technology and personal service together with smart analytics and social media tools to create products designed to help merchants grow their business.
"Fidano is committed to helping our merchant partners succeed, and we've heard resounding demand for a simple mobile payments offering," said Thomas Nitopi, CEO of Fidano. "Flint's platform not only enables Fidano partners to get started easily, it also offers a unique combination of ease-of-use and powerful customer engagement features."
Fidano will be rolling out the program and activating channel partners in 2Q 2013. Partners will be able to go from program activation to first customer transactions in just minutes as a result of an easy online setup process and a pure application-based model without any card reader hardware logistics.
"We are excited to collaborate with Fidano to create this first-in-kind, customer centric program. We have been seeing strong user success, and this will accelerate small business adoption through an established network of local partners," said Greg Goldfarb, co-founder and CEO of Flint Mobile.
Customers have rapidly adopted the Flint iOS app since launching in November 2012, and usage has more than doubled in the last six weeks. Flint's core differentiation stems from three primary factors: 1.) patented technology to securely scan just the main number off the card instead of using a physical swiper or capturing a full image of the card, which can create consumer privacy issues; 2.) end-to-end payment service provider platform to enable easy online merchant on-boarding in minutes; and 3.) patent pending framework to link mobile payment transactions to open online and social marketing tools to enable business to grow faster. Apple® has recently started featuring Flint on the App Store™ as a New and Noteworthy Business application.
Flint will be discussing its partnership with Fidano and demonstrating its product today at the 2013 Innovation Project, where it is a finalist for a 2013 Innovator Award in the category of Best Small Business Innovation. Hosted by PYMNTS.com, The Innovation Project is a two-day program that promises to challenge the way that the payments and broader commerce ecosystem thinks, develops, and ignites innovation.
About NXGEN Payment Services
NXGEN, with merchants in more countries than any other MSP, is Elavon's number one ranked MSP. Founded in 1999, NXGEN's 40% y-o-y growth is the result of continually offering clients innovations that matter. Scale, strength and security mean NXGEN merchants around the world benefit from single platform execution, a full suite of integrated products, value-added servicing, seamless merchant experience, depth management reporting, plus multi-billion dollar rate clout. NXGEN's international headquarters are in stunning Whitefish, Montana.
About Flint Mobile, Inc.
Flint is the mobile payments company that is creating the easiest way for mobile, non-countertop businesses to accept credit cards and find new customers through integrated marketing. A registered Payment Service Provider, the company's iPhone app enables users to accept credit card payments easily and securely using only their phone – without any additional hardware. Founded in 2011 and headquartered in Redwood City, California, Flint is backed by top-tier venture capital firms Storm Ventures and True Ventures. For more information, visit http://www.flint.com.
© 2013 Flint Mobile, Inc. All Rights Reserved. Flint and the Flint Mobile are trademarks of Flint Mobile, Inc. All third party logos and trademarks mentioned are the property of their respective owners.
# # #
Media Contact:
Matt McAllister
Fluid PR, Inc.
(510) 229-9707
matt(at)fluidspeak(dot)com
Company Contact
Jiyoon Chung
Flint Mobile, Inc.
(650) 456-1880
jiyoon(at)flint(dot)com