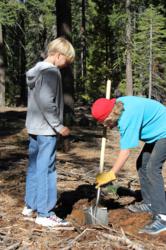 The health of our planet is directly related to the health of our forests.
Washington, DC (PRWEB) March 20, 2013
National conservation organization American Forests announced today that it is partnering with local organizations across the country and around the world to plant more than 1.8 million trees in 2013. The organization's 25 Global ReLeaf projects will help 14 states and five countries reforest areas damaged by wildfire, agriculture, disease, deforestation, natural disasters and more. These plantings further the organization's mission to protect and restore forests for the benefit of the planet and its inhabitants.
"The health of our planet is directly related to the health of our forests," says American Forests CEO Scott Steen. "Forests sequester significant amounts of carbon, clean our air and provide more than 50 percent of our drinking water. They also are a principal source of terrestrial biodiversity and provide habitat for countless wildlife."
Since its inception more than two decades ago, American Forests Global ReLeaf has completed restoration work in all 50 U.S. states and 39 countries around the world, helping plant more than 43 million trees. These projects are completed in cooperation with local nonprofits, business and government agencies.
Some highlights of the projects being funded in 2013 include:

Planting 83,000 jack pine in Michigan's Hiawatha National Forest to improve habitat for the endangered Kirtland's warbler. For more than 20 years, American Forests Global ReLeaf has been funding projects to restore habitat for this endangered songbird, and during that time, the species numbers have gone from fewer than 200 birds to more than 1,800 males.
Planting 6,300 whitebark pine in Montana's Beaverhead-Deerlodge National Forest to reforest an area decimated by wildfire and mountain pine beetles. Whitebark pine is a species whose inclusion in the Endangered Species Act has been deemed warranted, as its numbers are in steep decline due to beetles, disease and climate change. This project also supports the American Forests Endangered Western Forest initiative, which is currently focused on protecting and restoring forests in the Greater Yellowstone Area.
Planting more than 33,000 trees in Texas' Lower Rio Grande Valley to improve wildlife habitat in one of the most biologically diverse regions in North America. For 17 years, American Forests has supported projects in this area, and during that time, the population of endangered ocelot has grown from 50 to an estimated 80 to 100 in the wild.
Restoring rainforest lost to slash-and-burn agriculture practices in Panama by planting 20,000 trees. This project, American Forests' first in Panama, also focuses on teaching sustainable harvesting techniques to local farmers, creating new forest stewards and improving the livelihoods of local communities.
For a complete list of American Forests' 2013 Global ReLeaf projects, visit http://www.americanforests.org/global-releaf.
American Forests restores and protects urban and rural forests. Founded in 1875, the oldest national nonprofit conservation organization in the country has served as a catalyst for many of the most important milestones in the conservation movement, including the founding of the U.S. Forest Service, the national forest and national park systems and literally thousands of forest ecosystem restoration projects and public education efforts. Since 1990, American Forests has planted more than 43 million trees in forests throughout the U.S. and in 39 countries, resulting in cleaner air and drinking water, restored habitat for wildlife and fish, and the removal of millions of tons of carbon dioxide from the atmosphere. Learn more at http://www.americanforests.org.
# # #