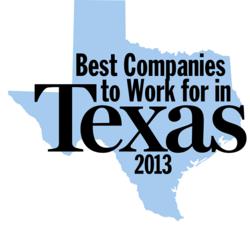 Fort Worth, TX (PRWEB) March 20, 2013
Ben Tiblets and Kevin Valadez, Co-Presidents of Consuro Managed Technology, today announced that their company was named one of the 2013 Best Companies to Work for in Texas, and ranked number nine in the small business category at last night's award ceremony. The award was revealed at the Best Companies to Work for in Texas gala on Tuesday, March 19, 2013, at the Hyatt Regency in Austin.
The 2013 Best Companies to Work for in Texas list is made up of 100 companies, divided into three categories based on number of employees, with approximately 33 companies in each category. Consuro is a part of this year's small business category.
The awards program is a project of Texas Monthly, the Texas Association of Business (TAB), the Texas State Council of the Society for Human Resource Management (TSC-SHRM) and Best Companies Group. The rapidly-growing Consuro is headquartered in Fort Worth with offices in Dallas, San Antonio, Houston, and San Angelo.
"Our company has quickly grown and expanded across the state over the past few years, an achievement made possible only because of our great team," said Mr. Tiblets. "We strive to be a different kind of IT company, and this award tells us our employees support our mission. We are fortunate to be surrounded by such wonderful people."
According to the Best Companies organization, this statewide survey and awards program was created in 2006 and was designed to identify, recognize and honor the best places of employment in Texas, benefiting the state's economy, its workforce and businesses.
To be considered for participation, Consuro fulfilled the following eligibility requirements:

Have at least 15 employees working in Texas (Consuro has more than 30 and is growing);
Be a for-profit or not-for-profit business or government entity (Consuro is a for-profit business);
Be a publicly or privately held business (Consuro is privately owned by co-presidents Ben Tiblets and Kevin Valadez);
Have a facility in the state of Texas (Consuro has 5 offices throughout the state)
Must be in business a minimum of 1 year (Consuro was founded in 2008).
The rankings are listed in the May 2013 issue of Texas Monthly, which will be delivered to subscribers and on the newsstand in late April. Texas Monthly is also producing a special publication profiling the winning companies to be released in conjunction with the event.
In addition to this honor, Consuro and its team have received a number of accolades including MSPmentor's Top 250 People Award; Fort Worth Business Press 40 under 40 honor; and Fort Worth, Texas Magazine's "Best IT Tech Support." Consuro was also a finalist for the Fort Worth Chamber of Commerce Vision 20/20 Award.
For more information on the Best Companies to Work for in Texas program, visit http://www.BestCompaniesTX.com or contact Jackie Miller at 877-455-2159.
About Consuro Managed Technology
Consuro is an award-winning information technologies managed service provider (MSP) whose comprehensive desktop and server management, network administration, computer hardware and software consulting, offsite backup, asset procurement, and other advanced data center solutions serve large and small business clients in many industries from offices in Fort Worth, Dallas, Houston, San Antonio, and San Angelo, Texas. Visit http://www.consuro.com to learn more about Consuro. If you are interested in joining the rapidly growing team, visit http://www.consuro.com/company/careers.aspx to see open positions.