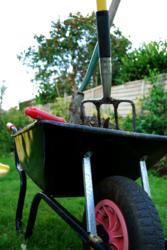 March is a key month in the yearly plan of many gardeners, concerning the prospective planning, planting and maintenance of the garden
(PRWEB UK) 20 March 2013
March is an incredibly important month for most gardeners. It marks the point when the winter finally begins its transition into spring, and plants slowly start to leave their withdrawn, dormant states for a period of new growth, significant for younger plants.
Following the planning and design of the garden in winter, early spring is a time of preparation for the new season of growth ahead. Maintenance for newly planted, as well as established, plants becomes important. Considering all this, English woodlands have released an advice series via their blog, informing their customers on feeding and mulching in the garden.
The series discusses advisable techniques for feeding the garden with fertiliser, as well as using both organic and synthetic mulches to smother weeds and enhance the quality of the garden. In terms of fertilising the ground, they draw attention to the importance of nitrogen, the element which fuels plant cells, allowing them to reproduce and grow.
Discussion of the comparative benefits and reasons for using organic and inorganic mulches is also carried out. The series encourages use of organic mulch, being cheaper to obtain and produce, while offering sincere nutritional value to the ground, also improving low quality and difficult soils. Inorganic mulches are highly recommended for their long-term benefits, being far less likely to decompose. While they offer no nutrition to the soil, mulch mats and rolls are unparalleled in their ability to smother weeds, while still permitting water and nutrients from above through their mesh.
A representative from the company was available to comment on the new series' release. "March is a key month in the yearly plan of many gardeners. It concerns the prospective planning, planting and maintenance of the garden, like mulching and preparing plants for the months of growth ahead. In conjunction with our other advice series, we hope our readers will have a good idea of how to go ahead throughout the year."
The new series is current in a long line of advice series the company has released as a part of their on-going effort to become a comprehensive resource for their customers' needs. In addition to the current series on feeding and mulching, they have discussed planting methods, spotlighted plants for seasonal interest, and advised on installation techniques for various irrigation systems.
English Woodlands are an East-Sussex based tree nursery, supplying trees, plants and planting accessories to individuals and companies across the entire nation. By continually releasing up to date and relevant advice to their customers, they hope to help them make the most of their purchases and achieve their planting goals.